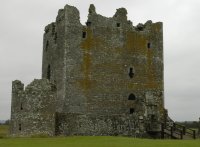 We woke at about 8am so we could go down for a hearty Scottish breakfast to start the day. I didn't mention it in the Friday entry but the bay-facing side of the dining room is purely picture windows so no one actually speaks in there, everyone is just hypnotised by the view. As for the breakfast, the croissants weren't the freshest I've ever tasted (they tasted like they were the long life type) but the cooked part of it was good and filled us up for most of the day. (And no, we didn't have any haggis.)

Our first tourist port of call for the day was Threave Castle, a 13th century castle in the middle of a lake. I had an estimate of where it was on the map but the GPS didn't tell us how to get into it so we ended up going on quite a drive before we got there. It's about a mile west of Castle Douglas, and you get to it from a roundabout on the A75 to the southwest of the town. The car park is also a half mile (or so) walk away from the castle itself but the walk is quite pleasant (along wooden footpaths through fields of sheep and cows). Then, of course, there is a short ferry ride across to the island. As I knew it wasn't far, I expected it to be a rowing boat or similar so was surprised to find the ferry was actually a motor boat. It seemed somewhat excessive.
The castle itself is pretty cool and while there were other people on the island, we were alone in the castle so it was nice. Because it is still fully intact (well, just the stone bits), it was easy to imagine how it had been when it was a functioning castle. It's really small when you consider all the people that would have lived and worked there. I bought a guidebook about it and provided John with an audio tour as we walked around. He spent a good ten minutes trying to think of something witty to put in the guest book.
When we were done, we ferried and walked back to the car park, and stopped in at the cafe for a cup of tea. We picked up a pack of shortbread to nibble and were amused to find that, in the stereotypically home country of shortbread, we were eating stuff made in Keighley. We also noted that out of the local produced preserves, the cafe stocked both Lemon Cheese and Lemon Curd but we didn't know the difference between the two. The woman behind the counter guessed it was something to do with how it is cooked but didn't know for sure. If anyone out there does know the difference, I'd love to find out. :)
Filled up with sugary goodness, our next stop was Galloway Wildlife Conservation Park, just outside Kirkcudbright. As an aside, Kirkcudbright is pronounced Keer-Coo-Brie. Because, yeah. And I thought my scouse and wooly-back kin were lazy when it came to pronouncing Fazakerley and Scarisbrick (Fazak-ly and Sk-aze-brick respectively).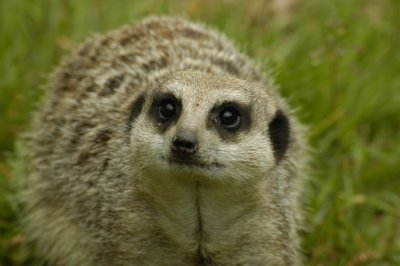 Anyway, the Wildlife park. The cute little animals. Aww, the cute little animals. I liked the meerkats the best and wanted to steal one (but only because the ring-tailed lemurs, which thought we were the attraction not them, wouldn't fit under my jacket). Most of the animals looked happy enough but some of them (namely one of the bigger cats and a couple of the raccoons) were pacing about which made us sad.
We didn't stay at there for long, perhaps an hour and a half, but it was enough as it is quite a small park – lots of animals but quite small over all. If we had stayed there any longer, we would probably have just spent the time gazing at the meerkats or the lemurs because they were so much fun to watch: tumbling over each other and posing for the camera.
---
We couldn't stay there long because we had a pressing engagement: we were going to learn how to make ice cream. When I was initially researching places to visit, I had stumbled across the
Cream O'Galloway
farm, near the Gatehouse of Fleet, and thought it would be worth a visit, to maybe have a look around and to have some of the organic ice cream (and frozen yoghurt) that they make there. However, a couple of days before we went, I went back to their website and spotted an ice-cream making class – and signed us up straight away. As it turned out, we were the only people on the session that day so we got individual attention – which was a bit too intense sometimes but equally meant we weren't beseiged by screaming children on sugar highs. First, we got shown the factory (which sadly wasn't working because it was a Saturday but I imagine is really interesting to watch when it is in operation) and then we went to a kitchen to make our own. We added organic honey, crystallised ginger root and (later on, so it didn't go soggy) honeycombe to our whisked milk, cream and sugar solution, then put it into the little ice cream machine (which just whisks and chills it). While that was freezing, our guide decided to show us how ice cream feels: she took us into one of the giant walk-in freezer. Since it was warm outside, we were just wearing jeans and tshirts so entering a MINUS 20C room was .. chilly. Our guide explained how hard it is to work in the temperature but that people get used to it after a while. We noticed how cold our jeans got while crossing our arms tightly across our chests.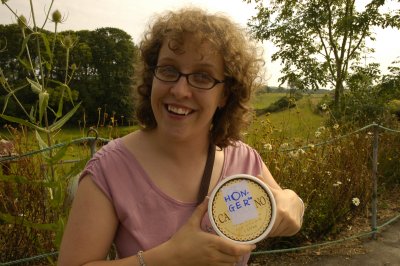 Back in our work room, we got to smell a range of different ice cream flavourings – such as natural vanilla essence versus chemical vanilla – and we also named our still-freezing creation. After limited brainstorming (our brains were still cold from the freezer), we took the "Hon" from honey, the "ger" from ginger to form the amazing "Honger" brand (with the "o" being honeycombe-esque hexagon). We instantly threw a TM on the end of it, so those evil capitalist exploiters* at Cream O Galloway couldn't steal it from us. After another few minutes, our marvellous creation was ready and we took it outside to eat in the sunshine. Apart from not being firm enough (we probably should have left it to freeze for longer), it was delicious. We started on the publicity material photography straight away – I think I capture that vacant advertising dolly's smile very well…
---
We stayed around the farm/factory for a while and took one of the short walks (including a stroll through the lovely smelling herb garden) but were plagued by flies so didn't stay long. After we left there, we went to find a spot looking over Wigton Bay to sit and read until we got hungry enough for tea (our "Honger" had killed our hunger, as it were) but we couldn't find anywhere that wasn't either fly-y or filled with holiday homes, therefore inaccessible. Instead, we decided to go over our intended dinner location, a pub/restaurant in the Gatehouse of Fleet called
The Masonic Arms
and read there instead.
We read for a little while then ordered food. We had to eat in the pub part because the restaurant was fully booked but this wasn't really a problem for us – aside from having to sit next to a group of racist old people and it being quite smoky. We shared antipasto to start ("Chorizo, Salami, Smoked Duck, Marinaded Herring, Prawns and olives" according to the website. The herring was pickled rather than anything more exotic but very nice. It was my first pickled fish experience and I enjoyed it even though it was a little sharp. It wasn't until I had some in St Peterburg that I realised it could be less so) then both went "local grass fed Beef" steaks for our main course. John had a 10oz sirloin and I had a 8oz fillet – his was really nice but mine was much more succulent. Quality over quantity and all that. They were served with mushrooms and onion rings with veg (including some beautifully sweet red cabbage), potatoes and fries on the side. Again, we were totally stuffed when we finished.
John had tried a couple of the local beers that were on tap so we had to hang around the Gatehouse of Fleet for a little while before he could drive. It wasn't a problem because it was a lovely evening and we had books with us; if we hadn't, it might have been a bit duller because it's not exactly a kicking town on a Saturday night. We sat in the park, near a big old dead tree, overlooking a bowling green. I astounded John (and myself) by being able to explain the game of bowls to him. It was strange to see that quite a lot of young people were playing but, I guess, see the aforementioned comment about kickingness. We stayed there for a while then took a stroll through the sleepy town itself, then walked back through the other entrance to the park to complete the circle. By this point, it was starting to get dark and John's liver had done plenty of metabolising so we drove back to the hotel.
As we drove past Rockcliffe bay, we decided to pull over for a while and sit on the beach. Rockcliffe, as the name suggests, is slightly rockier than Sandy Hills (we didn't see the sea anywhere near either bay but the wet sand suggests it comes up for a short while now and then) so we clamboured over the rocks and looked for creatures in rock pools. We stayed on the beach until it was nearly completely dark, marvelling about how quiet it was, then went up to the hotel.
* needless to say, I'm kidding. They were really very nice. For capitalist pigdogs.