A couple of months ago, I fell in love with long stitch: it's so much quicker to do than cross stitch so ideal for a lazy stitcher like me, but also I love the smoother, cleaner look – it's less bitty than cross stitch. I started with (Derwentwater Designs seasons) landscape kits — I'll take pictures of those when I finally frame them — but I very quickly went to wanting to make my own designs. I finished this one, my first one, about a month ago now: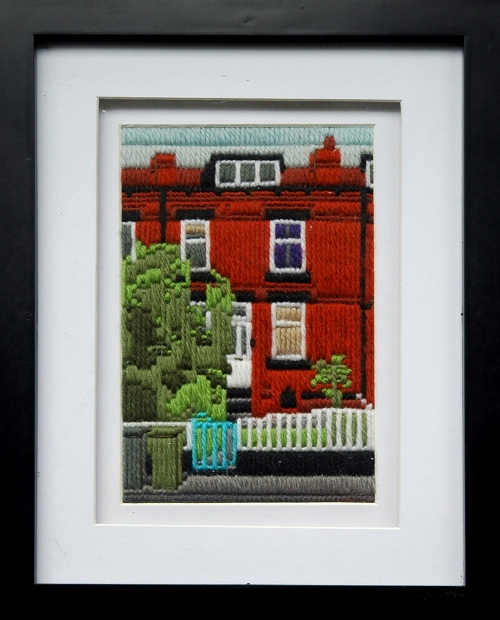 It's (very obviously to those who visited or read the title to this post) our old house in Armley. While not straying too far from the clean vibe of long stitch, I wanted to include lots of details that made it our house – the darker patterned brickwork around the tops of the windows, references to our blinds & curtains in the windows, the ironwork in front of the old coal hatch, the always left on the path bins…The blue gate and the brick red aren't quite so luminous in real life – either the stitching or on the actual house – but all in all, I'm happy with it.
I've done a couple of small geeky projects since then – again, I'll take photos of them when they're framed – but my next designs are a lot bigger and more involved. Can't wait to see how they go!