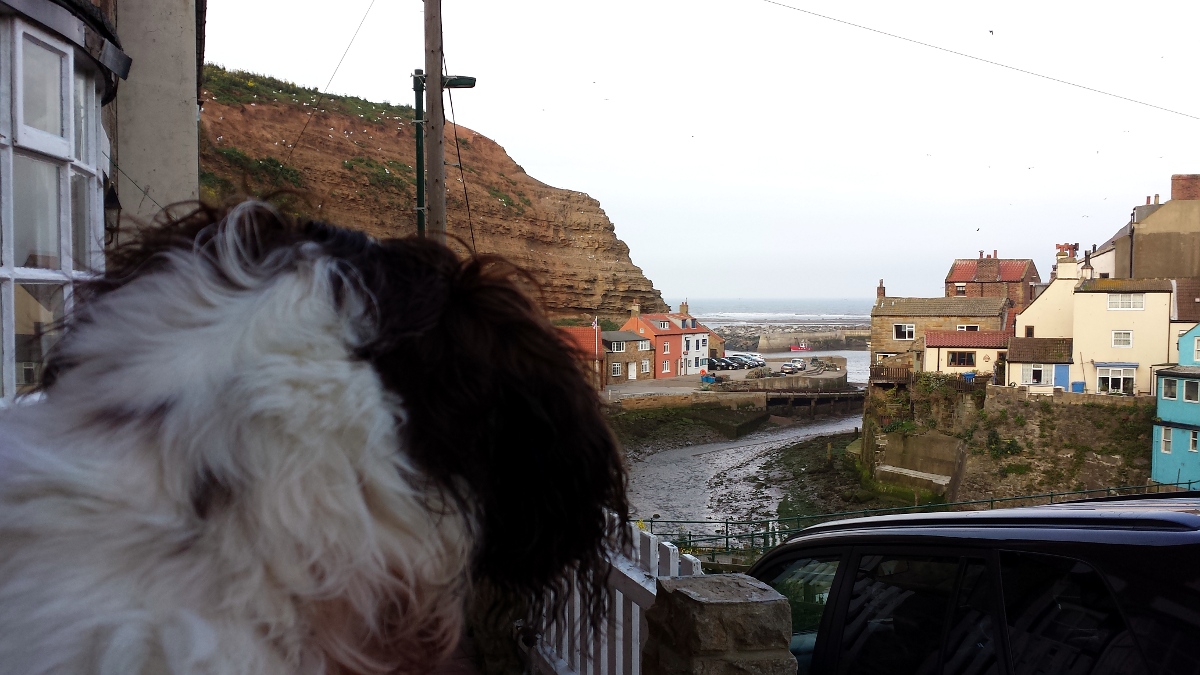 1. We all lie on our backs with our paws in the air.
2. A very friendly tuxedo cat welcomes us to the cottage. He has the most perfect markings: even socks, a dapper moustache and the very tip of his tail is a crisp white too. A little later, I spot a completely black sibling on the window sill two houses down but they actually live next door to that: we see them following their dad up the secret garden built into the cliff.
2b. Higgledy piggledy houses; narrow cobbled streets, curving and free from traffic; and the hundreds of calling seagulls perched on the iron stained cliff: I heart Staithes.
2c. I stand on the … not beach, there is no sand at that point, only giant slabs of flat rock, broken up with pools. The sea is fierce – grey and angry – not far away but staying at a distance. I'm not far from the bend in the cliff but beyond it, I can't see anything and behind me, everything behind the closest harbour wall is shrouded in fog too. It feels like I am at the edge of the world – no, the edge of existence.
3. As John naps, I sit Lily on my knee in the window seat. At first she is simply resigned to it (as she often is when we pick her up) but then she sees what I'm doing: her head turns so she can look at the harbour, then to the seagulls overhead, the people on the bridge… We sit and watch the world go by together until John wakes up.
4. The bistro is filled with pictures – lots of different styles and techniques but everything with a sense of fun. My favourites are probably the Leigh Lambert picture and the happy chihuahua.
4b. The cod cakes are rich and creamy – chunky but smooth at the same time. Later, I can't believe the smoothness of cauliflower puree.
4c. The empty streets look magical in the mist. We wind our way home, and light a fire.