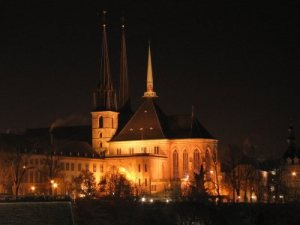 At the beginning of September 2003, Gianni moved to Luxembourg to start a job that didn't involve any circus-related footwear. In November 2003, Leachy and I finally got our arses into gear and went to see him.

---
Friday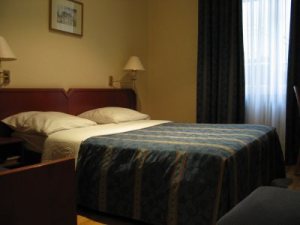 We got into the Grand Duchy at about 11am on the Friday – after an evilly early flight from Leeds Bradford and a surprisingly straightforward transfer (only one gate change – gosh!) at Amsterdam Schipol. We just missed the shuttle bus into town so spent an hour at the tiny airport. We were alterately transfixed by a tea bag infusing in a glass cup of boiling water and the clacking departure/arrivals board. Anyone watching us would probably have suspected we did more than change gates in Amsterdam…
We shuttled into the city and checked into our hotel: the Hotel Carlton on Rue de Strasbourg. The hotel was in a really convenient (if *slightly* seedy) location – near the main train station and near Gianni's place. The lobby, while not rivalling the Prague Hilton's atrium, was pretty sweet – with big comfy sofas and lots of art deco-y stained glass. The room itself was quite small but perfectly formed: clean and recently decorated, with a en-suite shower-room. Everything we needed in a hotel really.
We phoned Gianni to let him know we were dans la Duchy and discovered he was off work due to, well, still being drunk from the night before. We met up and took a wander into the centre of town for some lunch (tex-mex – the authentic Luxembourg taste). Afterwards, Gianni had to put in an appearance at work so Leachy and I had a quick wander around the local shops (H&M!) then went back to the hotel for a snooze.
Gianni came to pick us up later on and we went to 'The White Rose' bar (for British ex-pats). After a drink (and stealing some biker guy's seat), we took a scenic tour of Luxembourg by night including our first visit to the 'Grund' part of town – via a lift trip through the cliffs. We went to 'Maybe Not Bob's' (an American bar and restaurant – an authentic Luxembourg venue) for dinner and then dragged our collective fat asses back to the hotel.
Saturday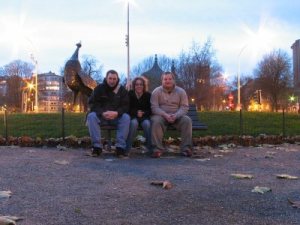 Having 'done' just about all Luxembourg on the Friday, we decided to take a day trip on the Saturday. We dismissed exciting destinations such as Paris, Strasbourg and Brussels because they were too far away – so decided to 'trip to Liege under the misapprehension it was nearer. Two and a half hours later, we disembarked at not-quite-the-right-Liege station after passing through the physical embodiment of winter. We ate some lunch at a brassiere (with a customary large black dog) on the way into Liege centre then wandered into the city centre. I crossed off another H&M from my "H&M across Europe" wallchart and panicked to find the boys had sauntered off without me – but only in the direction of a mulled wine stall at the nearby Christkindelmarkt.
We met up again only too lose something more important – our sense of direction. When we found ourselves again (using my all-powerful spidey sense), we underestimated the time it would take to get back to the station to missed our once-every-two-hours train. So in Liege, "the fiery city" … "a city at the crossroads of Northern and Southern European culture" and "the economic backbone of Belgium", we a) got lost and b) missed our train and stayed in the station bar for two hours. I would heartily recommend a visit (but not with us).
We got back to Luxembourg about 9ish and after a quick freshen-up, we went to the local curry place – because curries are what we do (and they're the authentic Luxembougg taste). Gianni had fore-warned us that Luxembourgish people are scared of anything spicy so the Korma-boys had to order food that was "hot" or "extra hot" in order to be able to taste something. I had something yummy done in a tandoor. It came out about three times as expensive as our crazy-naaned choice in Bradford but it was really good. We were stuffed and had to be rolled back to our respective temporary domiciles.
Sunday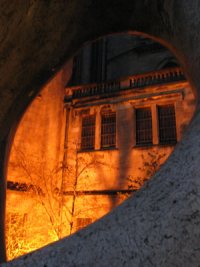 Technical difficulties (ie, John's phone not working then Gianni not answering his) on Sunday meant that we remained in two separate parties for most of the day. We finally met up about 3pm and after a quick shopping expedition (I wanted a new jumper), we had some fast-food (authentic Luxembourgish) pasta lunch. Full-up once again, we had a look around the various Christmas markets about the city and filled that last cubic centimetre of space in our stomachs with some crepes from one of the stalls. Mmm, authentic Luxembourg melted Nutella…
After a bit more wandering, we fancied a sit down but couldn't find anywhere more exciting/convient/not-full-of-football-fans than the bar at the train station. We deciphered some Monsieur Men books (which Gianni had just bought) for a while before tiredness hit us like a train hits a passer-by in a picture on Rotten. The J-ster and I went back to the hotel for a snooze and agreed to phone Gianni at 9pm to make plans for the evening. When we awoke at 9pm, we still felt completely knackered so elected to do nothing more exciting than staying in the hotel. Of course, ten minutes after we decided this, we both got annoyingly mentally alert so spent the next four hours watching lame BBC worldwide programmes and snacking on my emergency supply of chocolate raisins (in lieu of any other food).
Monday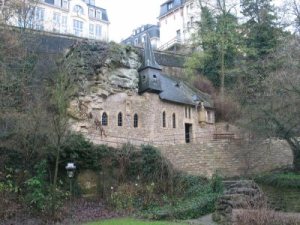 Our flight home wasn't until 4pm so after breakfast, we dropped our bags at Gianni's flat and went on a last scout about the city. We went down to the Grund again and John took some photos of the Quirin Chapel. Back in the main part of the centre, we went to somewhere called Banana's for lunch. We had omelettes (not at all Luxembourgish) and they were gooood.
After lunch, we had to rush back to Gianni's to pick up our stuff then shuttle back to the airport. We had a longer connection but miraculously no gate changes at Amsterdam and were back at LBA for about 8.30pm. We had four happy black cats awaiting for our return…