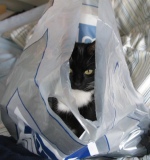 I don't usually just pimp random websites but this made me laugh a lot this morning: http://www.stuffonmycat.com/
Some on the front page are a bit hit and miss but the "Best of 2005" are pretty awesome: Loki is the best though. In fact, nearly all the food pictures rate highly on the amusement-o-meter. Eric wins the cute prize though.
And if all that wasn't strange enough, the actual Stuff on My Cat 'my cat' is an absolutely clone of my mum and dad's cat Holly in terms of markings. Awww.
(The picture here is Sili, by the way – probably the only of our cats that would let us get away with such tomfoolery)