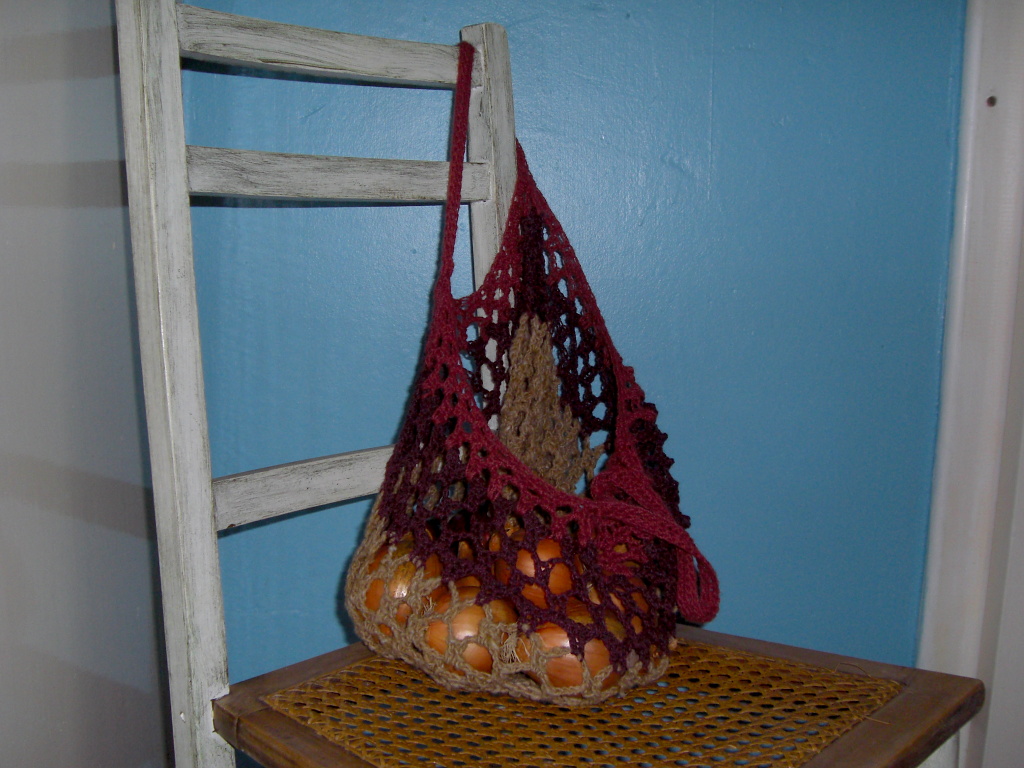 I've made a few of these crocheted shopping bags now and am refining them further and further every time. They're roughly based on Melinama's pattern though (a note – she uses US stitches so SC = our DC; and her DC = our TC).
My favourite thing is they're super quick and easy to make – I'm not particularly fast at crochet but I can make them in a few hours. They're a great project for beginners too because you only need to know chain, double crochet and treble crochet (US = chain, SC and DC). They cemented my love of crochet because they were the first thing I made that produced something really different to knitting.
Most of my bags so far have been made out of some super cheap dishcloth-style cotton so the stretch comes from the stitches not the yarn. The beige for this one was heavier than normal so in comparison, I had to double up the purple so it didn't look weird. A single thread of the purple would have been strong enough though. (I've also tried making a bag out of old carrier bags cut into strips and crocheted using a chunky hook. It was fun as a Recycle This-style project but something about it seems a little too stretchy for regular use.)
I like making the handles considerably wider than in Melinama's pattern – TCs in each stitch up each side – and joined to the body in more than places than just the first chain/last slip stitch. If I had more patience, I'd probably do two rows of TCs up each side but by that point, I get over excited about the finishing line being so close. I do love how neat the top of the bag is though.
The bags crunch down pretty small when not in use but then stretch up quite a lot as soon as you put something heavy in them. Really pretty smashing.