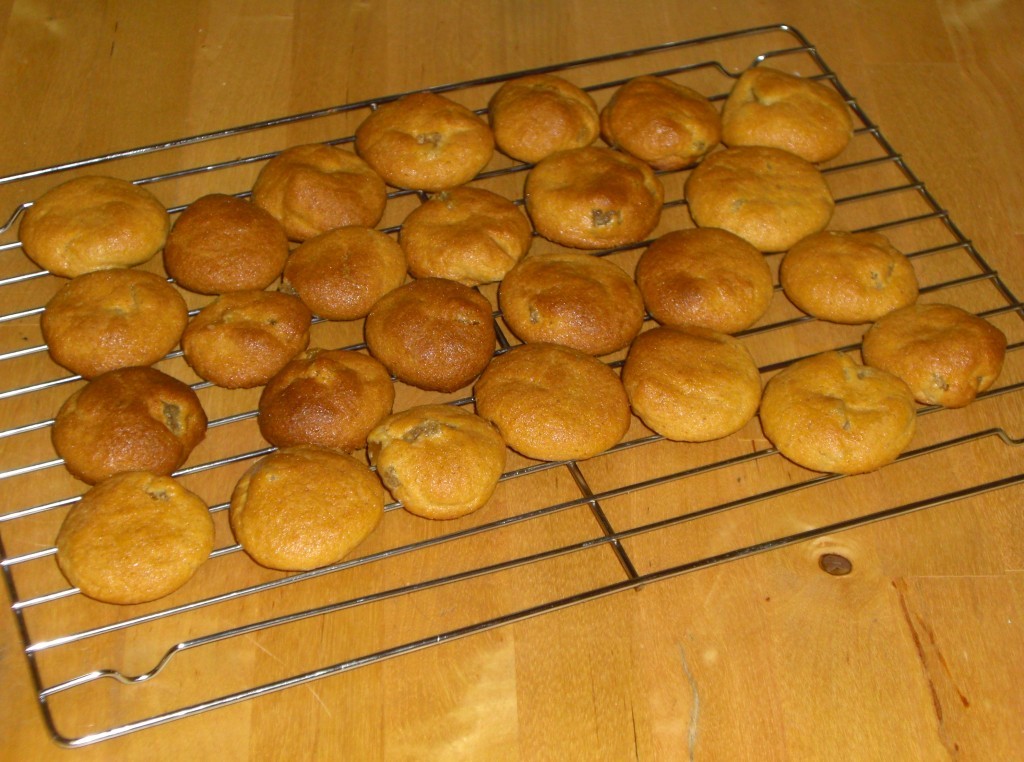 I've been in a bit of a biscuit making phase recently – something I've not really done before because the effort has seemed like it was out of proportion with the end product. Then I found a really simple and quick recipe for cinnamon biscuits and made a batch for John in November, and after that a (probably short-lived) obsession was born.
I kinda use recipes and knitting/crochet/sewing patterns as a vague guide – something to give me a rough idea to riff off rather than something follow slavish. I also don't usually measure stuff out when I'm cooking so the recipe details are estimates based on the original recipe I used for the cinnamon ones.
I made this set of biscuits to take around to enjoy during a night of gaming with Dathan and Gianni. The dough was perhaps the best yet and they stayed in nice cute rounds. They're crunchy not soft but YUM.
Fiery Ginger and Honey Biscuits: a vague recipe
Ingredients
Some butter (about 50g)
2 tablespoons of brown sugar
2 tablespoons of caster sugar
Some runny honey (a quarter/third of the jar maybe?)
Some ground ginger powder (a to-taste thing: a couple of teaspoons maybe)
Half a dozen chunks of crystallised ginger cut up into tiny pieces (biggest say 3mm cubed – that's the blobby bits you can see in the biscuits above)
150g-ish of self-raising flour
Method
(I've included the measurements again in here because when I'm following recipes, I want it all together rather than having to refer back to the ingredients section.)
Pre-heat oven to, um, about gas mark 6ish (450F/230C) and grease up (I use butter because mmm) a couple of flat baking trays.
Slowly melt the (50g of) butter in a saucepan. As it's starting to melt, add the (2 tablespoons) brown sugar, the (2 tablespoons of) caster sugar and the honey. Stir everything in and wait for it so slowly melt together – being careful not to burn or boil it.
When your goo is just about done, add the (2 TEAspoons or to-taste) ground ginger powder. Stir it in.
When the goo is done, take it off the heat and stir in the (tiny cubed half dozen chunks of) crystallised ginger.
Stir in about a quarter of the flour.
Stir in another quarter.
Stir in the third quarter. The dough should be getting nice and stiff.
I aim for a stiff, reasonably dry dough that clings together – basically by the end of the recipe, it's all stuck in one pleasing and not sticky lump around my wooden spoon. Add the last quarter of flour bit by bit until you get this consistency.
Now working quite quickly so the flour doesn't get all over excited before it's baking time, take a little piece of the dough in your hand and roll it into a ball. My balls (*snicker*) were just over 1cm (about half an inch) in diameter so you don't need much.
Place the rolled ball onto your previously greased packing tray. On the (A4 ish) size trays I use, I get about 3 rows and four columns on each. I usually use two trays.
Repeat the handrolling until you've used up all your dough.
Put the trays in the preheated oven and leave them to cook for, I don't know, 10 minutes? Until they're nicely golden brown anyway. If you've had to put one lower down than the other, swap them around mid way through or whatever.
When they're cooked, serve them onto a wire racks to cool: they'll still be quite floppy when you take them out of the oven but will crisp up as soon as they start to cool down.
They take maybe 20 minutes to cool down and crisp up properly. Then are utterly yummy with tea.