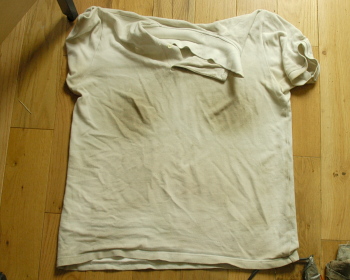 1. I spend most for the day grinding old paint from the metal railing and floor of our balcony. (We figure we'll do it properly once and it shouldn't need treating again while we're here.) I'm covered in dust by lunchtime and for some reason, the dirt has particularly stuck in two circles over my boobs. We laugh when we notice.
2. They look to me for reassurance and I laugh and smile at the right times, like an inverse Simon Cowell.
3. Waiting at the bus stop, my mum tells me about the sunset in Southport – strangely orange over the sea. I tell her in Bingley, the sky is still blue but the clouds to the west make the hills look taller than they are. I'm sat opposite the old Bradford & Bingley building – which the giant vinyl banners tell me is now for sale or to let – and notice the neglected trellises on the upper balconies.