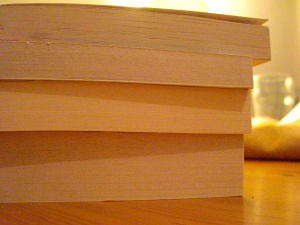 1. As I wait for the bus to Bingley, I spy a crow perched in a tree near the bus stop. It's too heavy for the tiny, spindly branches but it finds balance anyway.
2. After class, Katherine picks me up from Shipley and we go out to dinner at Coopers in Guiseley. At the end of the meal, we decided to both buy take home pints of ale for our Johns – she gets a Black Sheep, I get a Ruby Cascade but we somehow get them confused on the way to the car. On instant messenger later, we both simultaneously say "john doesn't think his tastes like black sheep. he says either way it's nice" then laugh.
3. I get home to find our book delivery has arrived. The first new-new books I've bought in a while – two by Richard Yates, two by TC Boyle. The off-white pages are flat and smooth.