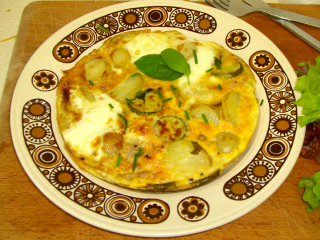 This was my dinner this evening – courgette frittata with side salad – and it was made entirely using things from our garden (with the exception of the wild garlic pods – some were from our garden, others from further into the woods).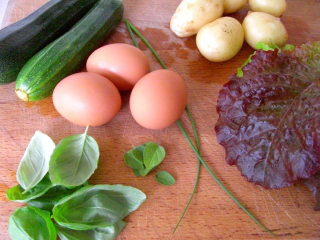 Ingredients:
– courgette (although I only used one in the end – could have used a bit more for flavour though)
– new potatoes
– pickled wild garlic pods (not in picture)
– eggs (from yesterday, needed beating better hence the egg white bits)
– basil (grown from seed this year) & oregano (had for a few years)
– salad leaves (lollo rosso)
– chives
– and, ok ok, a little oil for frying the courgettes – a small cheat ;)
It could have used a bit of salt & pepper for flavour but other than that, was pretty damn good!
And that's another goal ticked off my list.