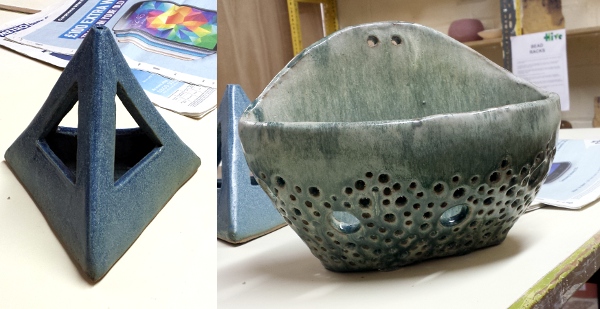 1. In contrast to last week's frustrating session at pottery, I have lots of fun – we laugh heartily during class and beyond; I start some new items and I refine some existing ones. My work that has come out of the kiln is good too: some of it isn't at all as I'd imagined it (eg, the blue pyramid above should be brown/blue mottled) but I still like it. I feel like I'm making progress again.
2. Singalong Friday afternoon.
2b. The jet trails converge from four to two, then one as the plane passes across the sky.
2c. The caterpillar on John's shoulder moves like it's in a cartoon.
3. Even though I'm already in my pyjamas, we decided on the spur of the moment to go to Leeds to watch B's new band play. The PA is a little too loud, a little distorted in the small space but we enjoy the gig all the same: the drums – played with big padded beaters and brushes – are considerably more interesting than one might expect, the guitar "solos" & vocal harmonies are pleasant and a surprise cover makes our night.