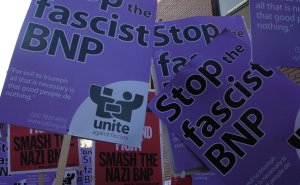 I marched against the BNP this morning. Well, when I say marched, I mean I stood around in the cold for about four hours and yelled "nazi scum" several hundred times but saying "marched" is so much neater.
The demo was organised by Unite against Fascism and Yorkshire and Humberside TUC to counter the support the BNP were scheduled to provide for leader Nick Griffin and Mark Collett during their a preliminary hearing for their upcoming trial. They're up on multiple charges of inciting racial hatred, related to the BBC "Secret Agent" documentary about the BNP shown last year.

We arrived at the Leeds Crown Courts at about 8.30am and planted ourselves inside the hippy enclave. There were, perhaps, about 50 people on each side and about 100 police. We bought some badges and chatted to the people running the stall for Unite then stood further into the "crowd". The amount of people there was disappointing; even the steady trickle of newcomers didn't swell our numbers to any considerable degree: sure, there was more of "us" than "them" (and that was the most important thing) but not enough to give me a huge level of confidence.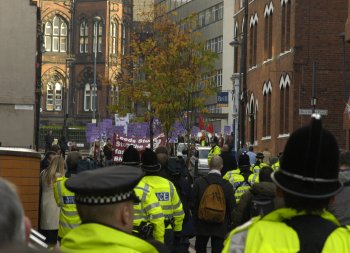 Then the students arrived. When I described it like that to John in a post-protest analysis session, he said it was wrong to say that as it downplays everyone else's involvement: he's right because at the same time as the students arrived, lots of other people did too (predominately Union groups and the lovely Mister SleepyKev) so it wasn't just the students that did it but, sheesh, their arrival was impressive. Picture the scene: a narrow alley way between two multistorey buildings. On one side a group of the "master race", uniformly white and so intelligent that they're holding aloft a banner featuring a George "big fat leftie" Orwell quote (ie, them), and on the other side, a rag-tag bunch of hippies, punks and commies, some of whom were NOT EVEN WHITE (us). We had been there for about half an hour, trading chants and jeers, but from my perspective, it felt like we were just going through the motions. Then a slow cheer went up from our side. Past the BNP, at the other end of the street, a procession rounded the corner, led by a banner proclaiming they were the Leeds Student Assembly Against Racism. "Woo!" we said, thinking 'ooh that'll double our numbers'. And they kept coming around the corner. It wasn't just University of Leeds students, student groups from all around the region: they had gathered at the students' union and walked down together from there. And still they kept coming around the corner. My guess, and I'm not great at guessing this type of thing, is that there was at least a couple of hundred of them (if I'm wrong, my figure is probably lower than it was). The cheers that went up from our side were deafening – particularly our chants joined with those of the new populace.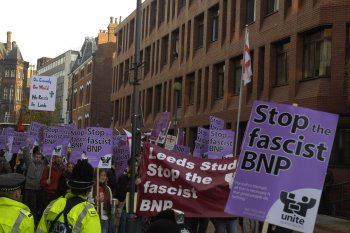 As I said, that really downplays the involvement of all the other groups that arrived at the same time but in my mind, that was when it turned into a bigger! better! louder! protest. We, about a thousand of us by this point, stood and chanted for about four hours in total and didn't hear anything back from the other side. We didn't know whether this was a matter of acoustics or whether we were truly shouting a hell of a lot louder than then: at one point, Kev and I walked around the block so we were at the other end of the street, behind the BNP; we were very pleased to hear that you could hear all of "our" chants, even though "we" were further away and we couldn't hear anything coming back. While up there, we walked by a policewoman explaining to two other random women what was going on; she said, and I'm only paraphrasing very slightly, "the students have come out against the BNP" – and you thought *I* was focusing on the students' role too much.
So anyway, we were there and vocal for about four hours. It rained. It was sunny. We booed. We cheered. I got sore legs and feet. It was much like any other small peaceful protest that has ever happened really. Oh, and John took lots of pictures.
At about noon, we did actually march – but only for about two minutes – from the Crown Courts down to the Art Gallery for the lunchtime rally. Trade union leaders – and a couple of people from Unite – spoke but we were cold and hungry by this point so we bailed after about half an hour. The rally was more public though and it attracted the attention of more passers-by (the courts are further out of the centre and the only people not involved that knew about the activity were the solicitors gawking out of their building across the way).
The political canvassing by leftist parties was more obvious at the rally than during the rest of the protest (and that's not to say it was missing earlier on either) and it really bugged me. From my student protesting days (protesting as a student rather than protesting about them), I developed a very thorough loathing of the SWP and similar organisations and today didn't serve to quash my attitudes towards them. Unite against Fascism aims to bring together a broad spectrum of groups from across the left and centre of the political spectrum – but the only people canvassing on the day were the far left: if (new) labour or the lib-dems had been so blatant, I'm sure people would have been annoyed. I realise such protests are their (the far left's) main recruiting ground but I found it annoying: at the rally, speakers were doing their turn and the recruiters were just circling, seemingly oblivious to the event. Maybe I'm reacting more to it than I should because of my issues with them in general but it just seemed .. rude.
It is these issues with the far left that have kept me off the streets and getting involved with any organised hoohah for the past five or six years. That and a combination of laziness and my overriding political framework being firmly based in cynicism. But I've realised of late that I do really care about what's going on in the world and being cynical isn't really helping: I just end up madly frustrated and it makes me want to drown things. I have two options: either stop caring or do something to about it, just so I can feel that I'm at least trying to help. With a partner like John and a non-negotiable interest in the world around me, I can't see the former happening any time soon without, perhaps, a lobotomy so I have no choice but to go for the other option. I'll be there again in January when Griffin and Collett's trial starts. I'll just wear more comfortable shoes next time.
(Oh, the BBC wrote a short story about the day but it is barely an article – the only "news" it presented was that we were there and even then it was inaccurate as they were far too many police to allow for any "clashing". Bah.)