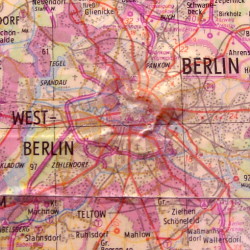 I went to Berlin with Team Brightbox last week (1st-5th September) and as much as KLM conspired to make it otherwise, I had a great time.
It took almost 24 hours to get there with the quote-unquote "Reliable Airline" because the flight between Leeds-Bradford and Amsterdam was delayed, causing us to miss the last connecting flight onto Berlin. Cue four tired, sweaty hysterical people trying to maximise our return at a "participating bar and restaurant" at the airport after being given "we're sorry we messed up" vouchers worth 10euros a piece (we scored two glasses of champagne, a "luxury" mojito, a cola beverage and two giant slices of chocolate truffle cake). We then had an indescribable meal at the airport hotel and about three hours sleep before catching our onward flight to Paris at dawn the next morning.
Paris? Yes, because all the Amsterdam-Berlin flights were booked up so we had to go via Paris. And we found out when we finally reached Berlin that my suitcase liked it in France so much, they decided to stay there for an extra day. Sigh.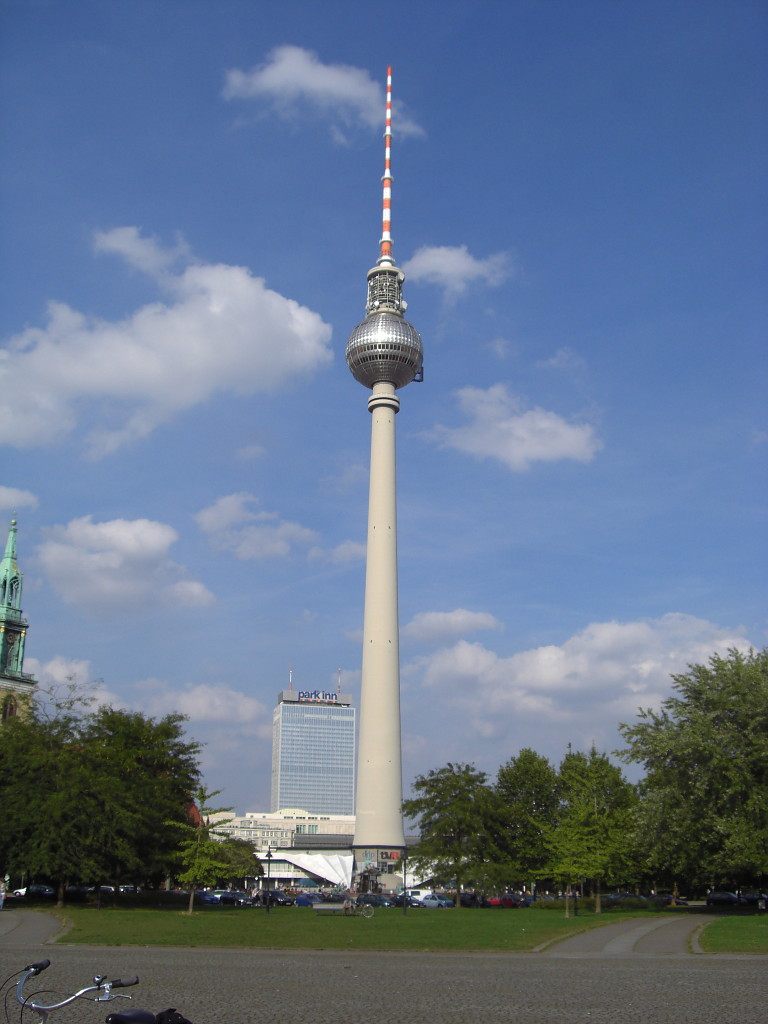 Anyway, we finally reached our hotel – me sans luggage – around 2.30pm on the Tuesday. My original – pre-airline farce – plan had been to take a bike tour of Berlin on the Tuesday morning with Fat Tire Bike Tours. I'm not usually one for tours but because I was completely on my own (John was tied up at RailsConf with Brightbox) in a strange city, I thought it might be a good way to get a lay of the land. I'd obviously missed the morning one but decided – despite the lack of clean clothes (hurrah for promotional tshirts) and sleep – I'd go on the 4pm one instead. Capsule review: awesome fun and I was so glad I went on it. Even though it was rush hour ish, there was less traffic than a normal day in Leeds and anyway, we spent most of the time on bike paths or down back-streets. It took about 4.5hours including a refreshment stop at a beer garden in Tiergarten and I got to see a few things I probably wouldn't have found/bothered with on my own (eg the abandoned guard tower near Potsdam Platz). Well worth the 18euros.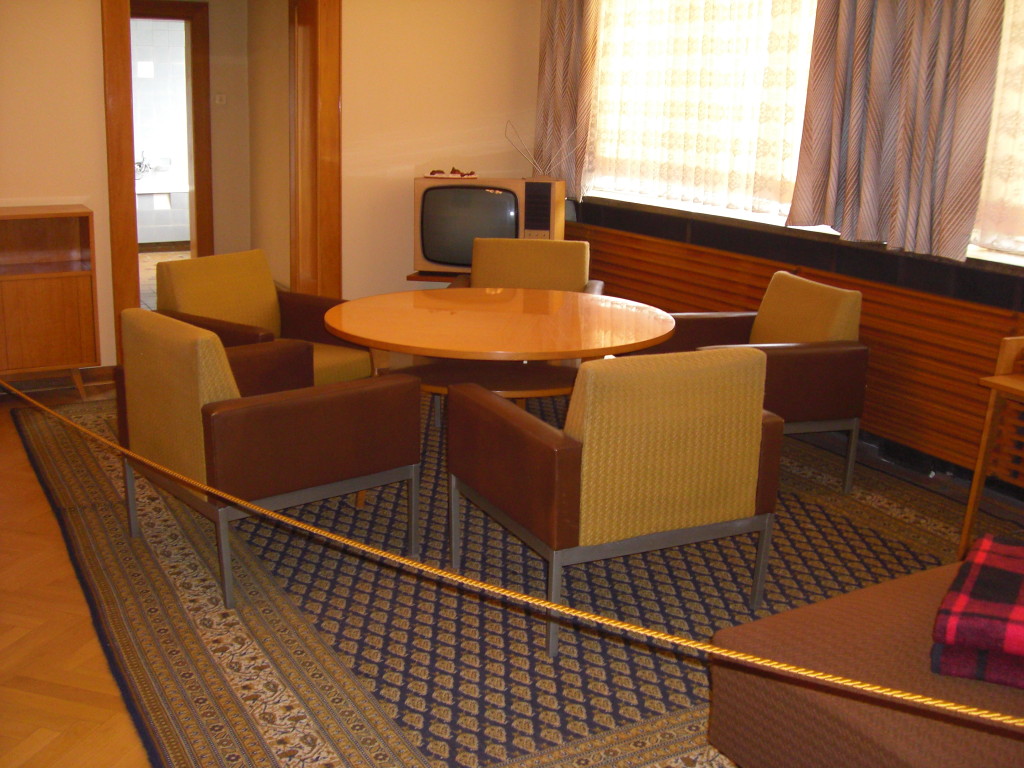 On the Wednesday, I had to work in the morning (John did too) and just as we were leaving the hotel for our respective afternoon pursuits, my suitcase finally arrived and I just about hugged it. I then got a taxi with John to the RailsConf hotel near Friedrichstrasse station and took a pleasant (burning, melting hot) stroll down Unter den Linden to Alexanderplatz. From there, I took the UBahn to Magdalenenstrasse at the former Stasi Headquarters. My my, that was a surreal experience (when I finally found it). Because it was a random Wednesday afternoon, there weren't many people in there and it felt like I was trespassing in some governmental offices from the 1970s – which I guess I was. Away from the offices, the exhibitions are all in German (an English guidebook is available for 3euros) but even without knowing the language, I was moved by a lot of the displays and intrigued by all the former Stasi spying devices.
After I was done (and bratwursted up), I headed back into the city and to the exhibition underneath the Memorial to the Murdered Jews of Europe (as fascinating and upsetting as expected). After that, I got on the third wrong train of the day and ended up at Friedrichstrasse so decided to take donuts to the Brightboxers at RailsConf. We all hung out in that hotel's lobby for a few hours while John & Baz finished up some work then headed out for dinner with Deb & Rob, Paul & Charmaine. There was an irony travelling all that way and hanging out with Leeds people but it was a good night.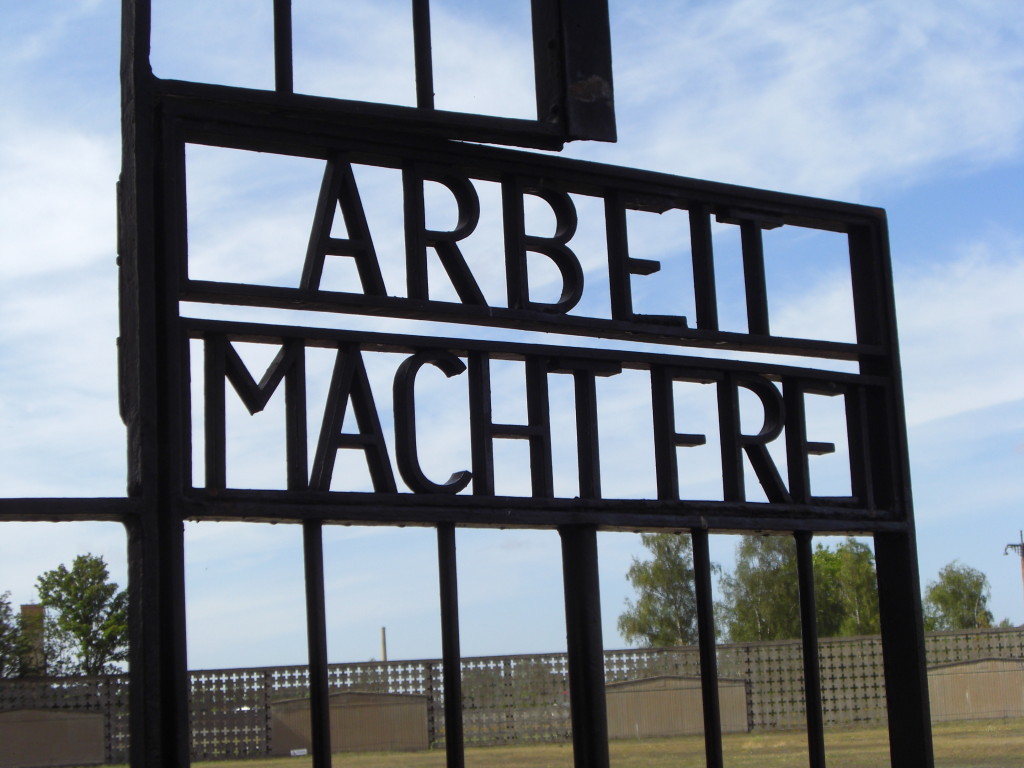 On Thursday, I went to the Sachsenhausen Concentration Camp Memorial. I had originally intended to take a tour with the non-profit group Mosaic Tours because it's out in the sticks and given my train issues the previous day, I wanted some help getting out there – but when the tour was cancelled due to low numbers, I took some directions and went anyway. It wasn't that hard to get to in the end – a train out to Oranienburg then a bus from the station to the memorial – but Oranienburg station was surreal: a beautiful picturesque station, complete with a McDonalds, a live DJ playing 1970s German disco, dancing drunks and someone dressed up as a cartoon Viking. Perfect mood setting.
When I got to the Memorial, I was glad I wasn't on an organised tour – I realised I could more concentrate on the things that interested me and also I wouldn't have to be constantly be apologising for my sometimes inappropriate sense of humour. I took the audio tour instead and found it thoroughly absorbing – I just wish I could have a recording of it to keep and listen to again because there was so much to take in.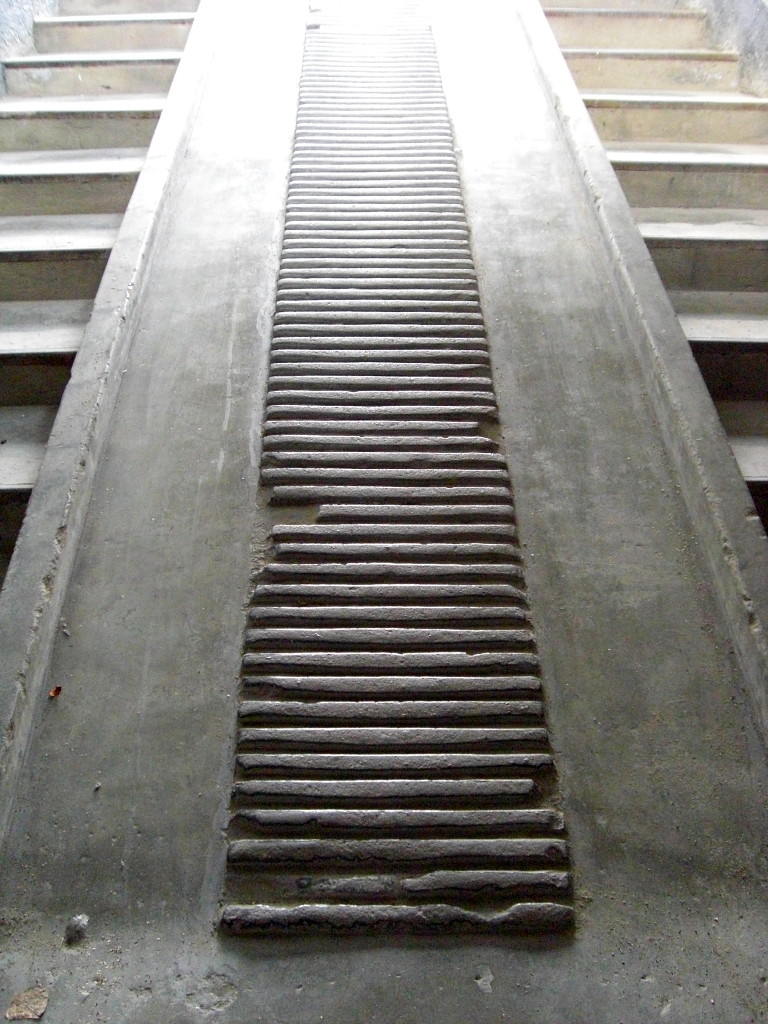 The museum exhibitions are equally thorough and this is where the "concentrating on things I wanted to learn about" thing was the most important – I spent a lot of time in some of the areas but barely any in others. I spent just over three hours there in total – all I could take in a single sitting – but I'd go back on another trip to the city and spend even more time there, absorbing more, learning more…
Thursday night, John & Jeremy had to meet some clients so I found a Thai place for food near the hotel – yummy tom yam gung followed by mussaman gai – then we all had dessert together in the hotel's bar before contemplating the journey home on Friday morning. The Berlin-Amsterdam leg went ok but when we got to Amsterdam, they told us we wouldn't all fit on the connecting flight and one of us would have to wait for the later flight. In normal circumstances that would have been fine – annoying but fine – but after the 24hour journey there and lost luggage issues, we weren't particularly impressed at the idea – plus John had a gig later that evening and we didn't think he'd be able to text/phone in his drum beats. Eventually, after having to wait for seat allocation at the gate, we were all allowed on together and got upgraded too (which doesn't mean much on those cityhopper planes – we were just grateful to have seats).
I certainly do think we'll go back to Berlin again – if only so John can see something other than the taxi ride from airport-hotel & hotel-conference. I'm surprised we hadn't gone sooner to be honest given my 20 year long interest in the last century of German history. There is so much to see and think about with all the Nazis stuff and all the DDR stuff – but history aside, it is a great city anyway. Despite my repeated errors on it, the public transport system makes it super easy to get around (Potsdamer Platz = haaaaate) and I loved how bike friendly (and flat!) it was. While it's big, it didn't feel scary-big like Moscow and maybe it was just the people I met but there seemed to be a really laid-back vibe to it too. We'll return – just not on KLM.