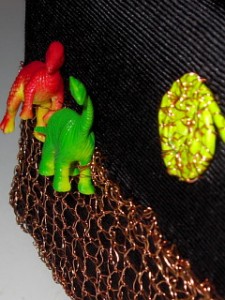 I would like to introduce you to Zach and Jeff.
Last week, I went to Liverpool for a wire-working workshop as part of a fantastic "Recycle Into Art" week, organised by the city's Red Dot Exhibitions.
The workshop was run by Alison Bailey Smith, a wonderful artist and thoroughly lovely person who I'd already featured on Recycle This – she makes jewellery, accessories and clothes using reclaimed wire (typically from inside old televisions) and other "rubbish", such as tomato puree tubes, sweet wrappers and ribbon from bouquets.
The workshop was billed as learning how to decorate bags – to make better use of the time, some people chose to make jewellery instead but since I needed a new nice bag, I stuck to the original remit.
We started off with Alison showing us her knotting technique but I somehow kept forgetting how to do it in the middle (don't ask, I can't explain it), so when Alison suggested knitting it instead, I jumped on that. Then I spent the next hour knitting a strip – which in hindsight wasn't a terribly good use of my time but I liked the finished strip.
I'd picked out a nice simple clutch bag from the selection of charity shop bags Alison had brought along for us to use and the copper strip looked nice against the black – but I wanted to add some features as well. I played with some of the different techniques Alison had shown us – such as wrapping scrap plastic with wire then coiling it – but nothing seemed to fit as well as Zach and Jeff. (I'd previously used their kin to make earrings. These guys were going spare.) Then someone pointed out the coil I'd made out of a lime green M&S carrier bag strap looked like a meteorite, and hey presto, a handbag with a story was born.
I sewed the wiry earth, the dinos and the meteorite onto the bag with thinner, darker wire (visible in parts on the finished item) and a curved needle – my, my, that was more difficult than I thought but everything seems pretty secure now.
When I showed John the finished item, he was sad because he thought that there was an inevitably unhappy ending for Zee and Jee but I pointed out they were plastic so it was beautifully circular.
I had a thoroughly great time at the workshop, learnt so much and was really interested to see how everyone took a different approach and came out with something different. Since then, I've also learnt how to crochet so when I finally get my hands on an old TV of my own, I'll be able to do all kinds of fun stuff with the wire. Plus, I have a great new bag too.