Boron is asleep in between us, a light absorbing blur. I put my hand down to stroke his chest and he starts to purr. His head stretches back to maximise the stroking area and hanging above, his paws are floppy and soft, the claws so completely retracted that it makes it hard to believe they're there.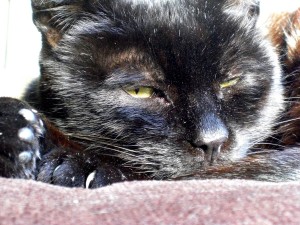 Ten years ago, Boron bit my finger through to the bone. He was a stray then, a proper straggly semi-feral stray. It took months of building up his confidence before he'd approach us, months more before he dared to stay the night. He thought I was taking food from him – from him, the starving stray – when he bit me: I was taking a wooden skewer from him, a vaguely meaty skewer from a long-eaten cumberland sausage. I screamed, as you do, when his fang pierced my skin but I think he knew I wasn't screaming at him. He jumped back about a foot but only a foot, and looked at me with a quizzical stare. Was I going to lash out at him? Would I cave and give him back the splintering stick? I didn't want to undo our hard work socialising him so wrapping a piece of kitchen roll around my finger and wincing at the pain, I bent down and stroked him. He didn't shy away so I found him a treat, and only when the bite and the scream was forgotten, did I leave him to tend to my deep wound.

For a couple of years, he maintained his hardman image. He was still the tough tom of the neighbourhood even when he came back from the vets lacking certain things. He would sleep on the bed and let you stroke him – but only when he wanted it, and if you continued for too long, he'd turn in swipe you, claws out, in the face. He was not a pussy, a'ight?
On Good Friday 2002, he disappeared. We will never know what happened. It was the day D moved out and someone across the street was moving. In all the commotion, I didn't realise he was missing until late the next day – overnight excursions were not uncommon then but he'd never been gone that long. I spent two days walking around the woods calling for him. I told myself he'd gone away to die – he'd been happy with us, he'd had a good retirement, but he resorted to old habits when his time came. I was sad but happy I'd given him those good years. Six weeks later, I got back from a late night out, after 2am on a school night, and there he was in the living room with his favourite girl, Sili. He was skinny, skinnier than he'd been when he moved in, but it was most definitely him. He asked for a cuddle, he asked for a headrub, he asked for some food and I provided all three.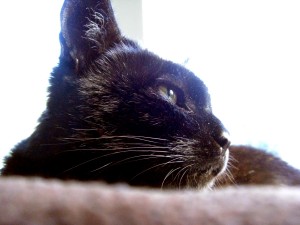 Most nights, except from the recent sticky ones, he sleeps between us for at least some portion of the night. He's worked out that is the warmest spot in the bed – under the duvet, my arm over him then over John. If I'm facing the other way, he sometimes gives up the John-warmth (a mighty warmth) in favour of the better hugs. Other times, he snuggles between our two backs.
More than any cat I've ever lived with, Boron is a blinker. Because we spend so much time with them, all our cats are/have been pretty vocal but alongside his chirps and mews, Boron blinks. If we blink at him, he'll blink heavily in return. Sometimes he initiates it – we catch his eye and he'll blink slowly and deliberately at us. He's had a lot of key teeth removed as he's got older, leaving him with hilarious gurning smiles – but while his mouth is goofy, his slowly closing eyes send messages of love.