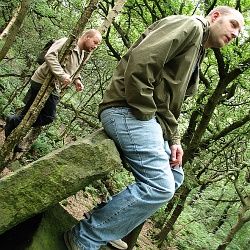 Another post written considerably after the fact but backdated…
On Bank Holiday Monday, the chaps and I left our normal existence in front of computers in favour of a walk in Hawksworth Wood.
Hawksworth Wood is just off Kirkstall Road/New Road Side (A65) and runs the length of Hawksworth Road, and well, it's pretty cool considering it's still in the middle of the city.
While in the wood, we larked, as we tend to do, and I met some doggies. Gianni and John increased the entropy of the wood and Kev hated the prettiness. I, meanwhile, exposed my arse when John tried to take my photo thus lessening the prettiness that Kev had to hate.
Afterwards, we went to have some lunch at La Cafeteria in Hyde Park then to the Fenton where the guys played pool and Gianni repeatedly missed his train.
A good day.