In an effort to get back into the habit of blogging regularly, I'm taking part in Blogtoberfest 2012 – at least one post a day on at least one of my blogs (full list of the posts).
I finally added string to my corkboard string art/house number project the other day.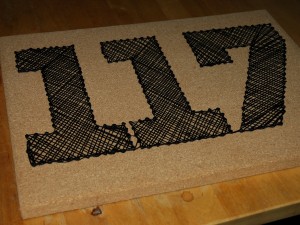 I just used some cheap black cotton embroidery thread – it was a little splitty on a couple of occasions but other than that, it worked well and I like the weight/thickness of it. All one colour – I wanted it stark.
The stringing was a combination of enjoyably repetitive and frustrating at times – if the string got snagged on the wrong pin or if I couldn't work out how to string it efficiently/neatly without duplicating or missing out bits. It's not perfect but because I didn't plan the number of pins or their spacing I would have been absolutely shocked if it had been. (I'm reasonably happy with it being imperfect but there is a contrast between the sharpness/neatness of the font: imperfect would look just … perfect with a less formal font, such as the one Dina used.)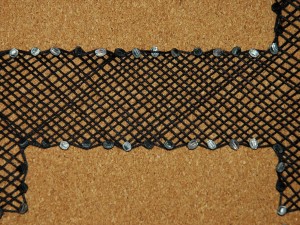 The pins flipped out of the corkboard very easily during the threading but I decided to push them all right in to give them more support – which has pinned the string against the board so I don't get the nice shadow effect thing any more. I still like it though – it feels like a real life version of the Scribble font I used on my photo "captions" ;)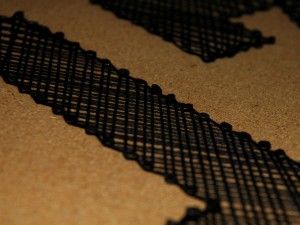 All in all, it was a quick, easy and cheap thing to try and I think I'll give it another go sometime soon. I'd like to make a colourful spirograph-esque circle perhaps or some other nod to retro string art designs. Something a bit more precise to excite my perfectionist glands ;)