(Warning: long, picture heavy post!)
Anyone who knows me in person or follows me on Twitter will know I've been really, really into pottery over the last six months or so – but I've shared very little online. For my own record – and so my mum can see what I've been up to, I decided to take some quick snaps of some (by no means all!) of my things.
(They're not great pictures but they're not great pots either so, you know, they'll do ;) )
All made at the wonderful Hive, in Shipley. I took my first general pottery course there in the autumn term 2013 and another two (ceramics for outdoors & sculptural raku) earlier this year but these makes are mostly from drop-in sessions. What with drying times, waiting on kiln firings and all that sort of things, I usually take a good few weeks to finish any item – and by that time, I feel like my skills have moved on a shedload since I started. I don't mind too much, but it does invariably mean I'm rarely happy with my finished items ;) Nevermind, it's all a good learning experience!
(Roughly in order of 'production'. Click for bigger images.)
Sloped bowl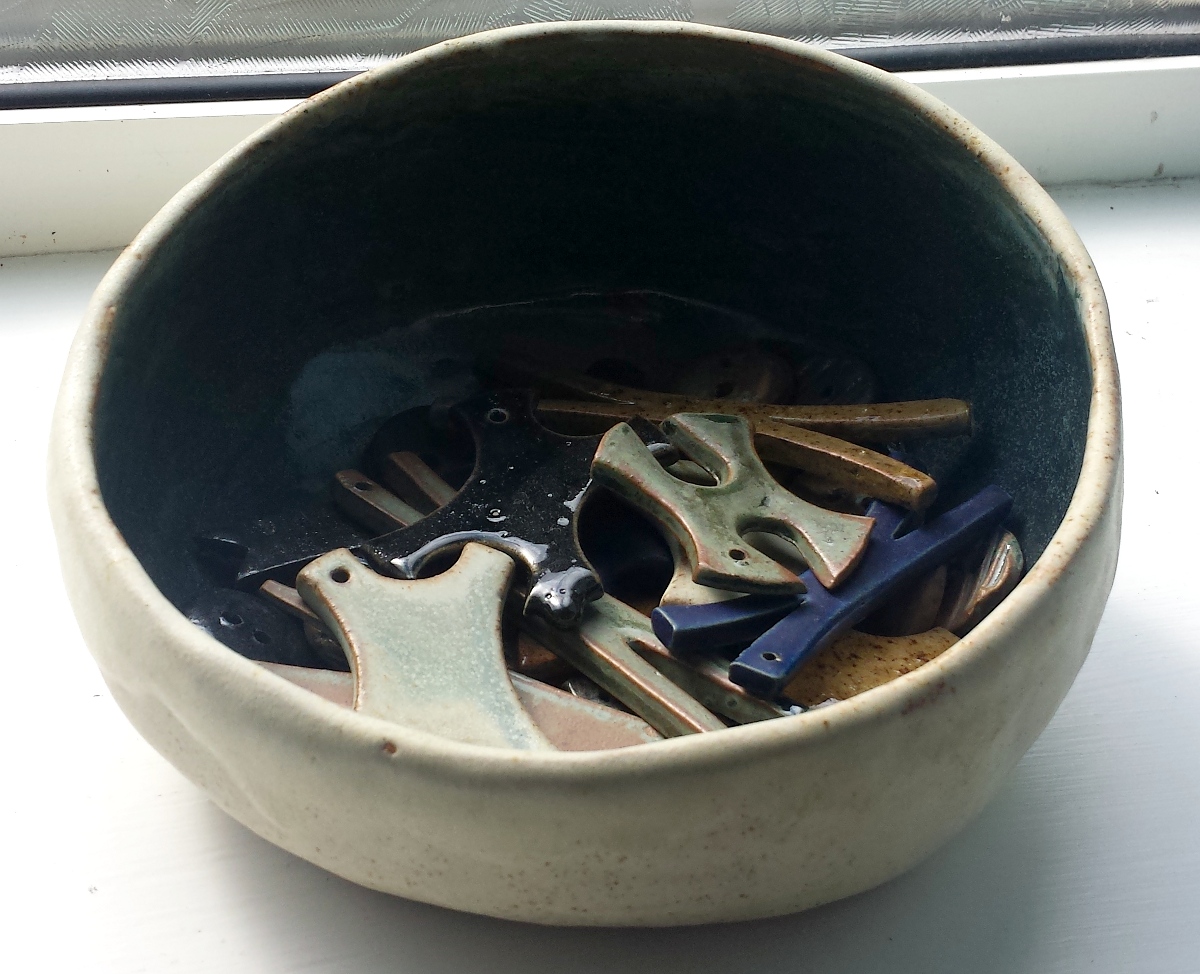 (filled with thread winders and buttons, see below)
My second coiled pot, with a gently sloping rim. Matte-ish "speckled oatmeal" on the outside, shiny teal on the inside. Could have been a lot thinner and more sloping, but it was just about the first time that glazing actually went to plan.
Swooping bowl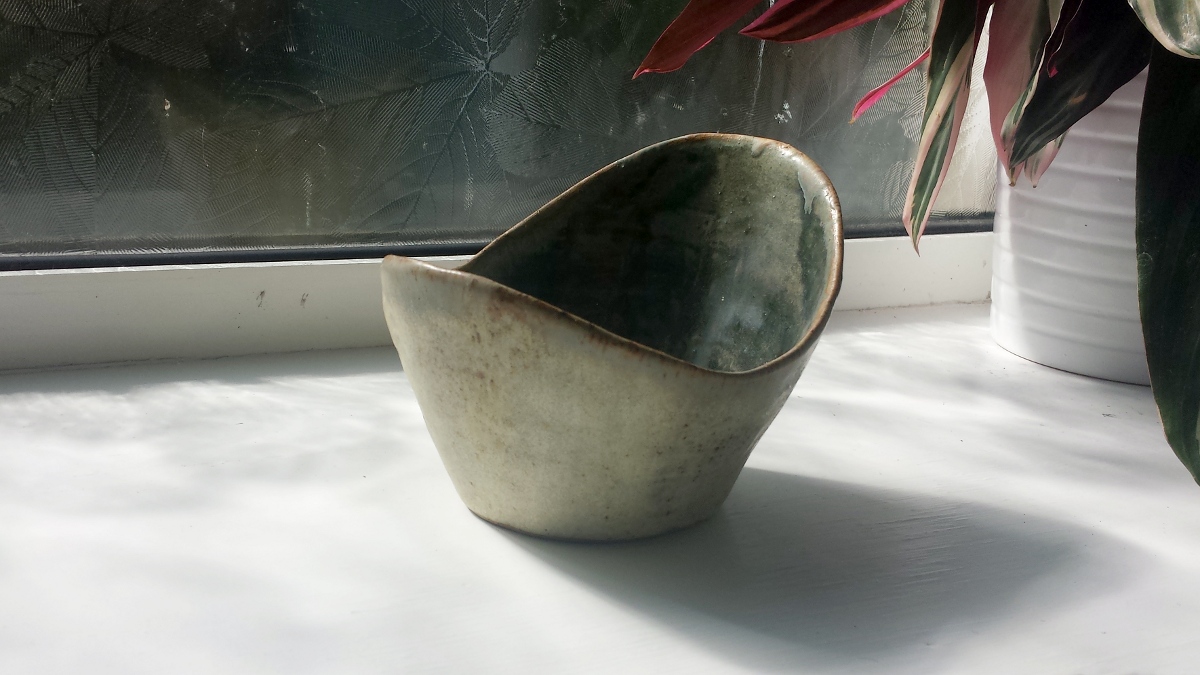 What I'd wanted to do with that first one but chickened out ;) A small bowl with a swooping rim. Coiled then thinned out. An experiment in refining – "how thin can I go?". I messed up the glazing a bit (it's the same as above, but is a bit patchy), but I love the shape and lightness.
Dimpled oval dish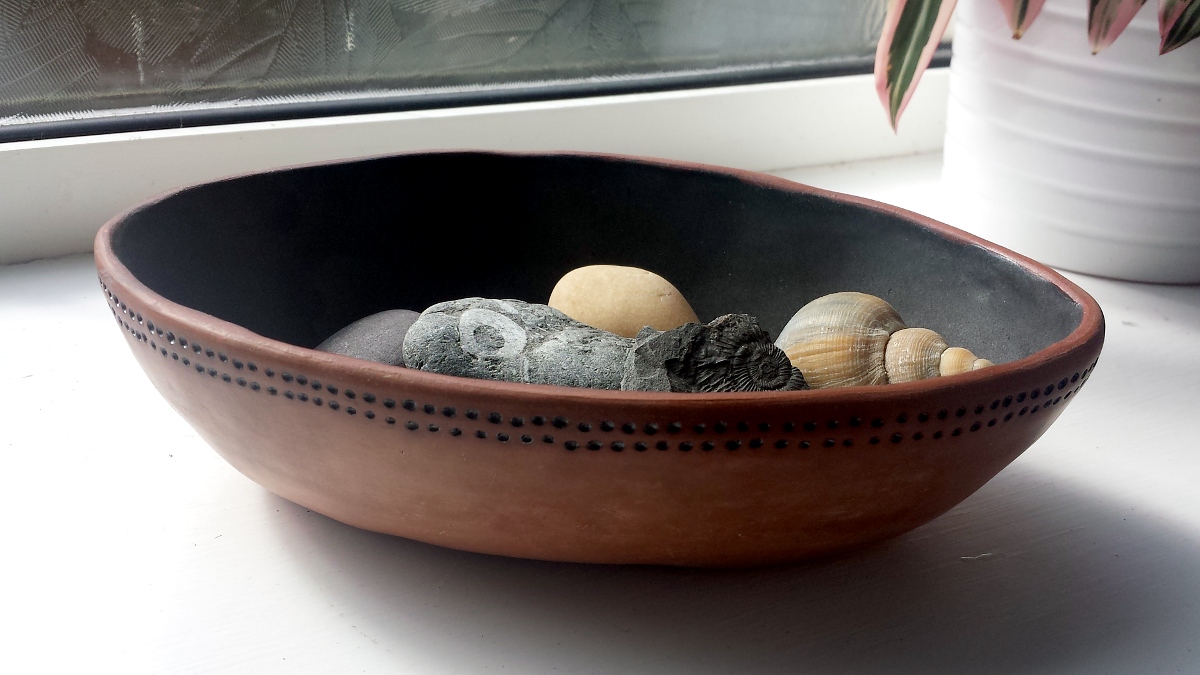 One of my first pieces in terracotta – I hated working in terracotta (it's sticky and stains everything red) but then I realised the red/black contrast would work so well that it was worth the hassle. An early experiment in burnishing – could have been shinier but at least it's smooth, and the glazing went well too. One of my first pieces that I really liked – hence all the other red-and-black stuff below.

House number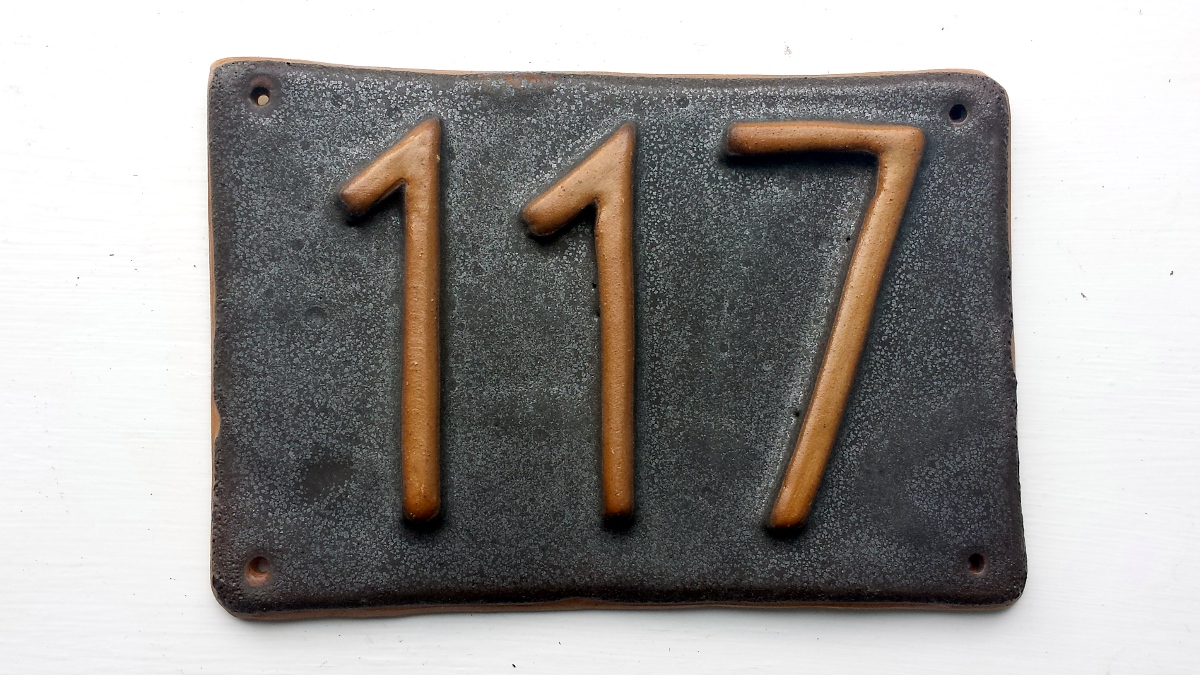 Slab then freehand numbers. Love the toastiness on the numbers from wiping away the matte black glaze.
Pot and saucer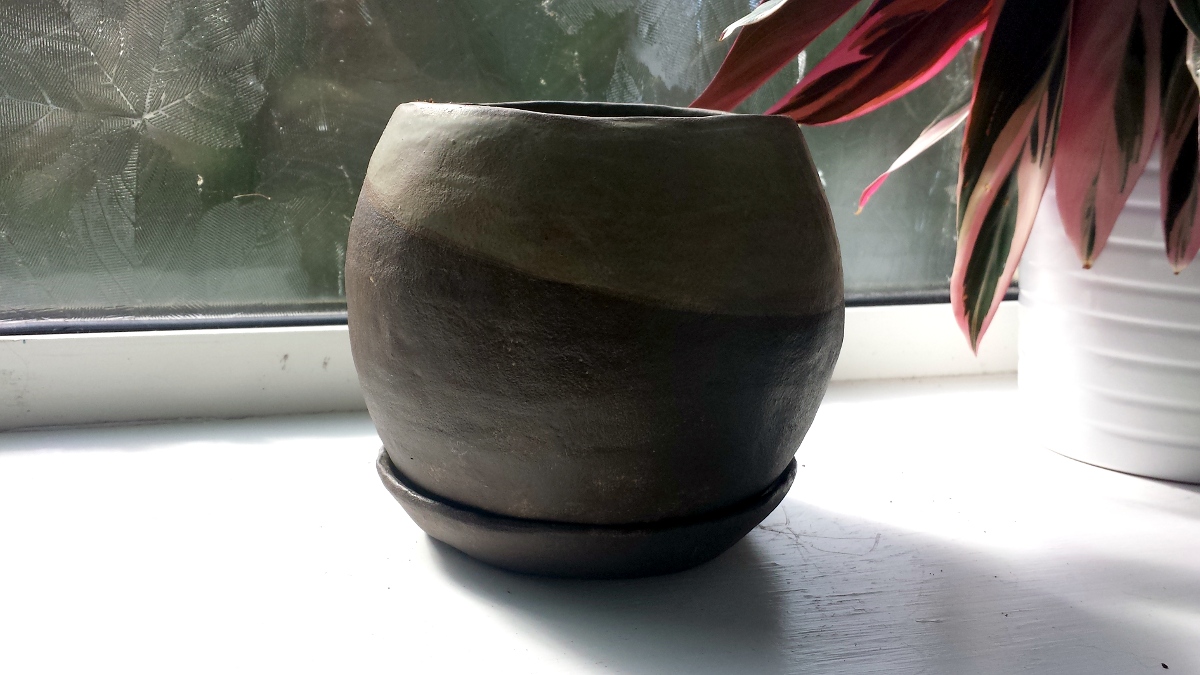 Another experiment in thinning out – it's nice and thin. The pot has drainage holes in the bottom, hence the saucer. The idea was the outside of the pot and saucer should have been matte black (slip), with a shiny blue glaze inside, around the top (on an angle) and in the saucer. For some reason, the black slip came out brown and on the outside, the glaze went … beigey? There is more blueness inside but not a lot. Not sure what happened but I think I like it better this way anyway!
Wall from the woods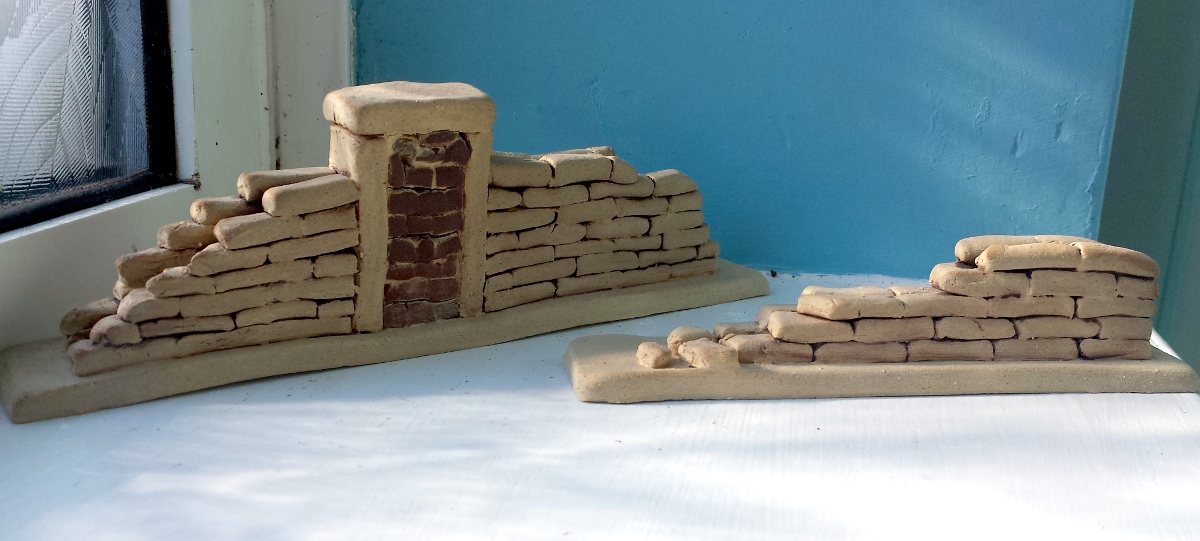 Someone else at Hive is fantastic at making little walls and I decided to copy – his are far, far better than mine. It's inspired by the walls in the woods near our house – which have inexplicable doorways that have been blocked up, and are rather tumble down in parts. (The smaller section is supposed to have "logs" tidied to its collapsed section, like a particular bit in the woods, but I haven't done it.) I think my main problem with this was making it in spare/rushed five minutes here and there – the "bricks" (which are all individual) are inconsistent and got a bit bendy, and while I wanted soft, age-worn edges, they ended up a bit round. Still, it was one of my first out-of-my-comfort-zone projects in drop-in, so I like that it helped me pick up my game.
Divided pot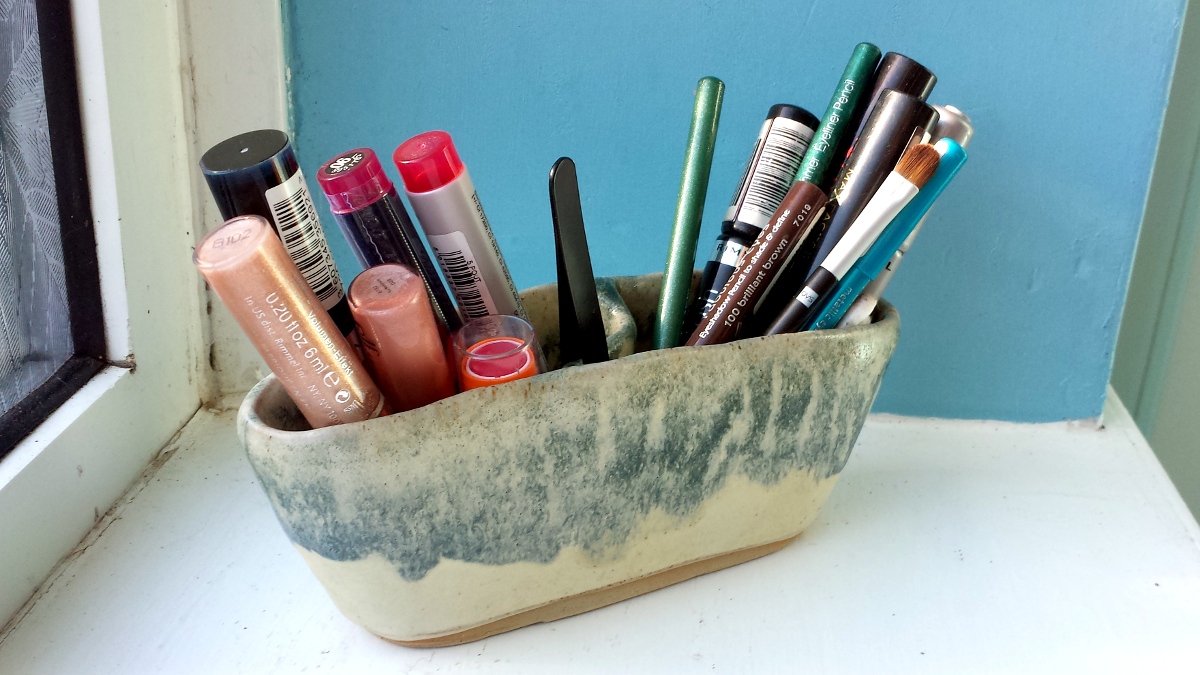 Coiled oval, with a bendy dividing line in the middle. One of my first "crawling" glaze experiments – a shiny teal over "speckled oatmeal" — I love the mossy effect. I also like the foot – and how useful it is for containing all the make-up I rarely use ;)
Wind clank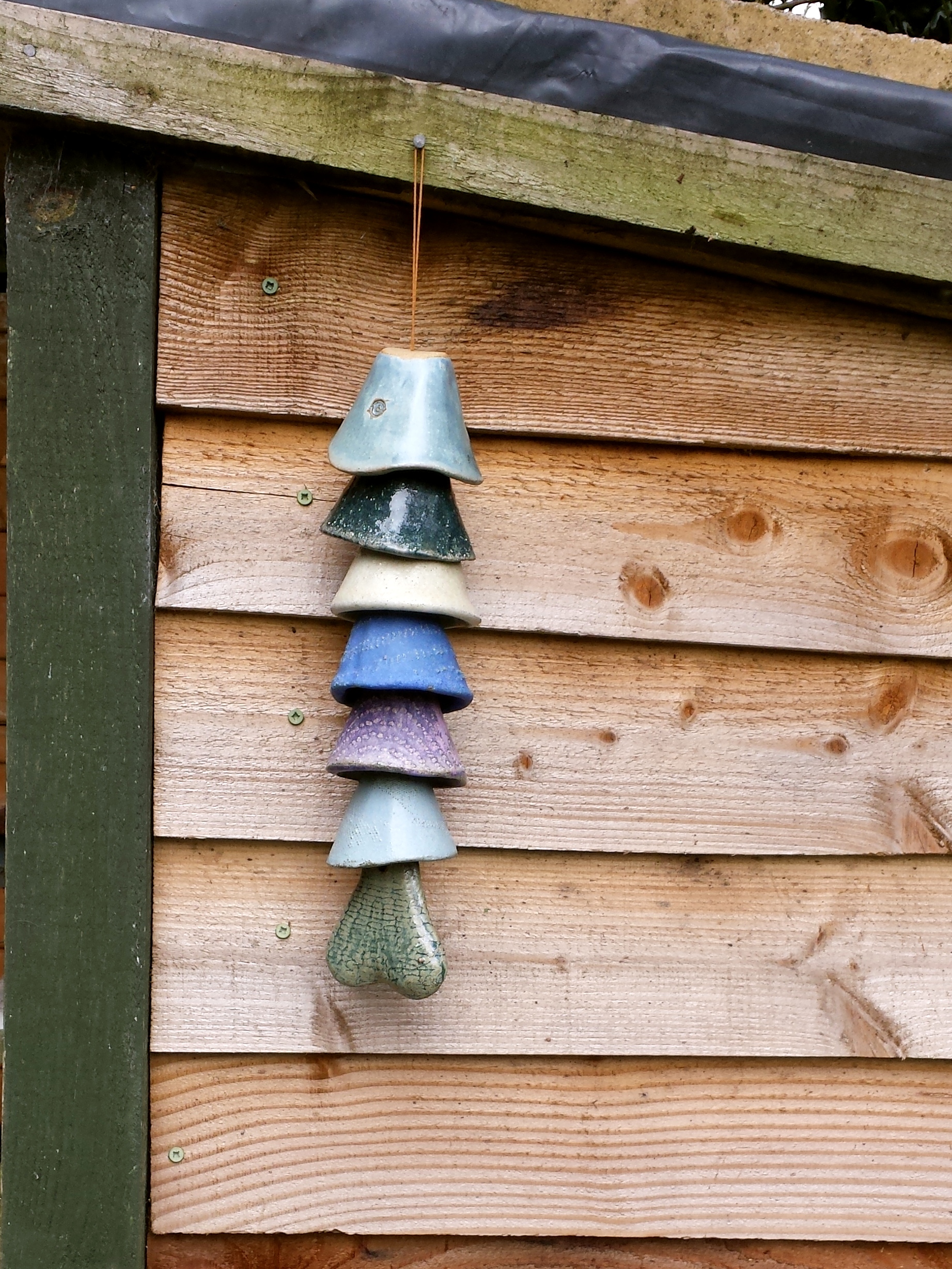 I've already blogged about this one – some little slab-built pots for testing textures/glazes, which come together to make a fishy wind chime thing. Every bit of it was trying something new – from building pots with slabs, to working out a way to stop me hating the grogged clay (burnish it smooth), to texture application, to glazes. It's far from perfect but it was very useful indeed.
Buttons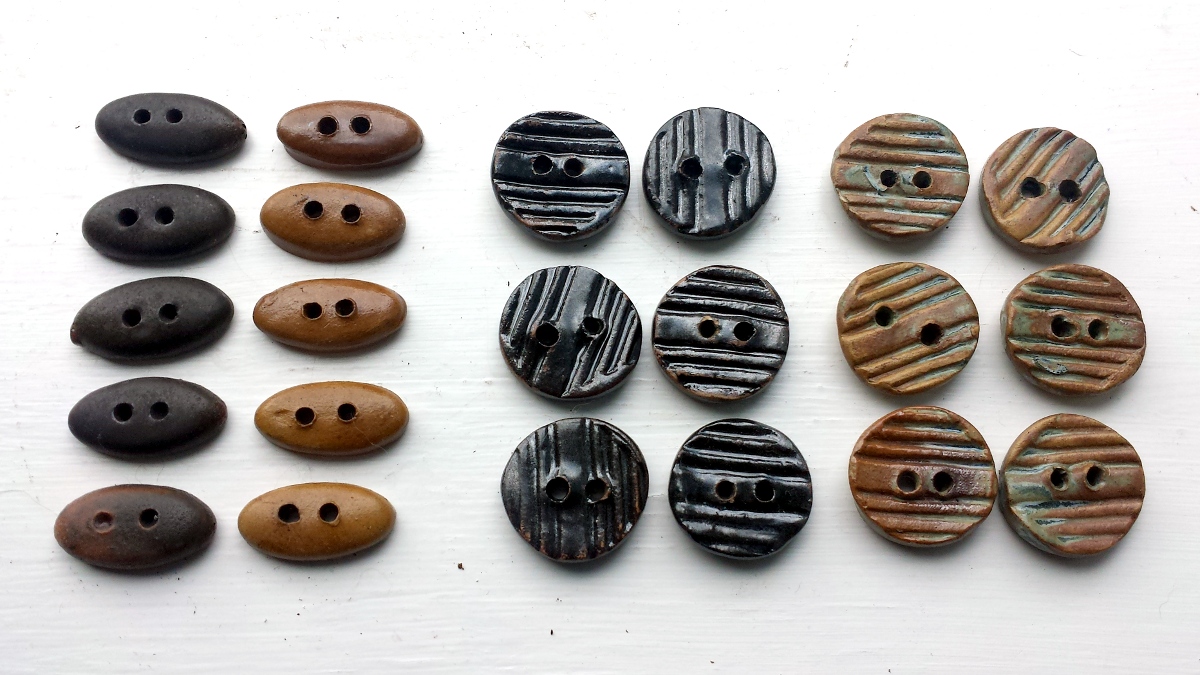 An assortment of buttons. Made quite quickly and imprecisely, but I quite like that they look worn. They're fiddly little blighters to glaze, I don't imagine I'll make more in the near future.
Three triangle ashtrays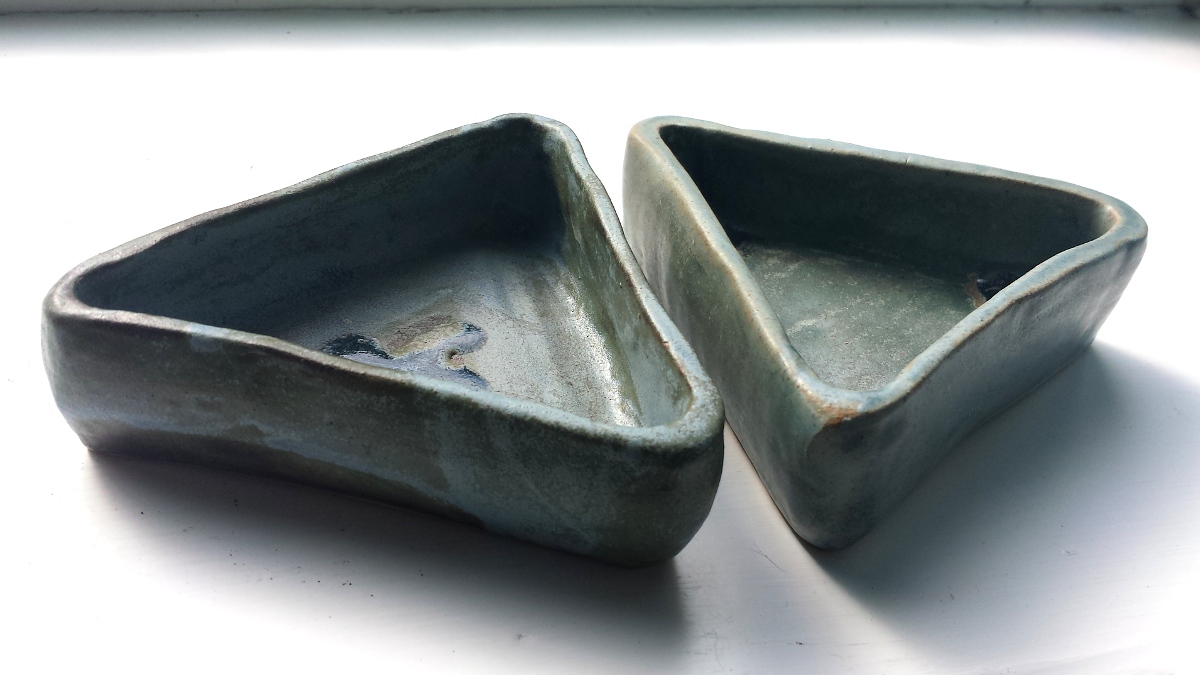 Two small ashtrays – made for our friends, but I've commandeered at least one for collecting my thread/yarn ends ;) Slabs with coiled sides. The left one has curved sides, the right one straight ones – just for a bit of variety. Also testing different glazes – though the extra glaze I tried to put inside (the shiny stuff) didn't work at all all (which is a shame because otherwise they're glazed well).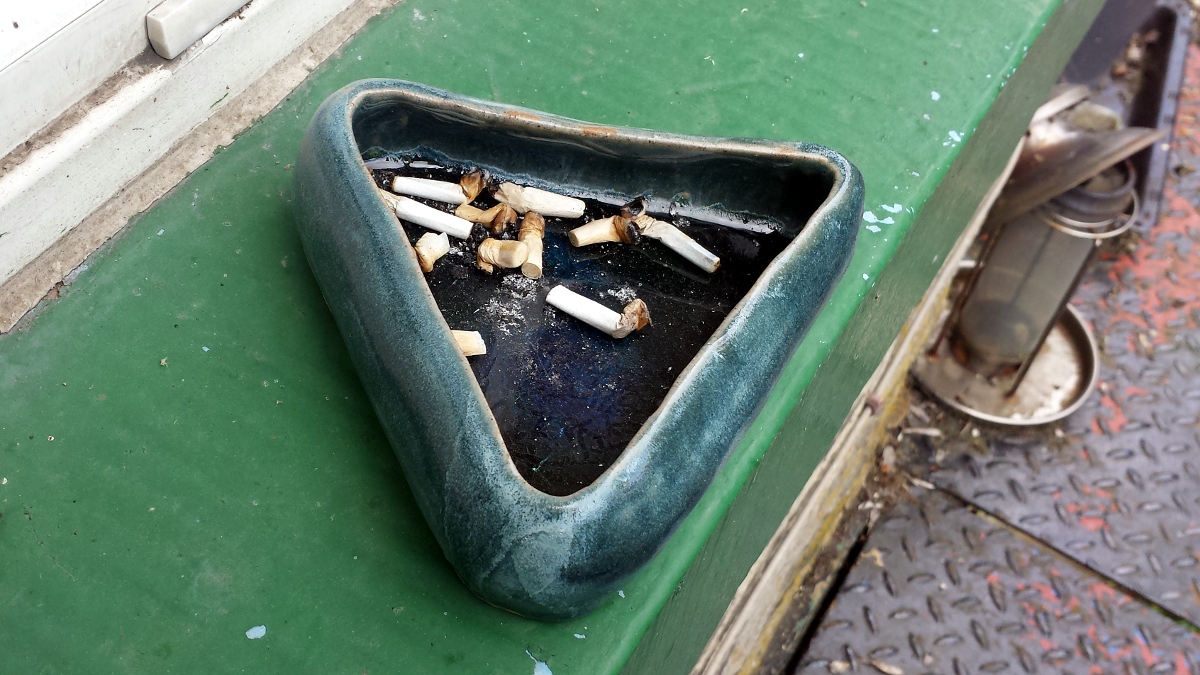 The third ashtray in the set has already been put to use (it lives on our balcony for our smokey-joe friends to use when they're here) – sorry for the gross butts but I'm lazy and couldn't be bothered emptying it for the pic ;). It's got a layer of melted glass in the bottom – but because I'd used a dark glaze, you can barely see it. A shame because it's got some nice swirls/colour variations in it.
Pyramid bird feeder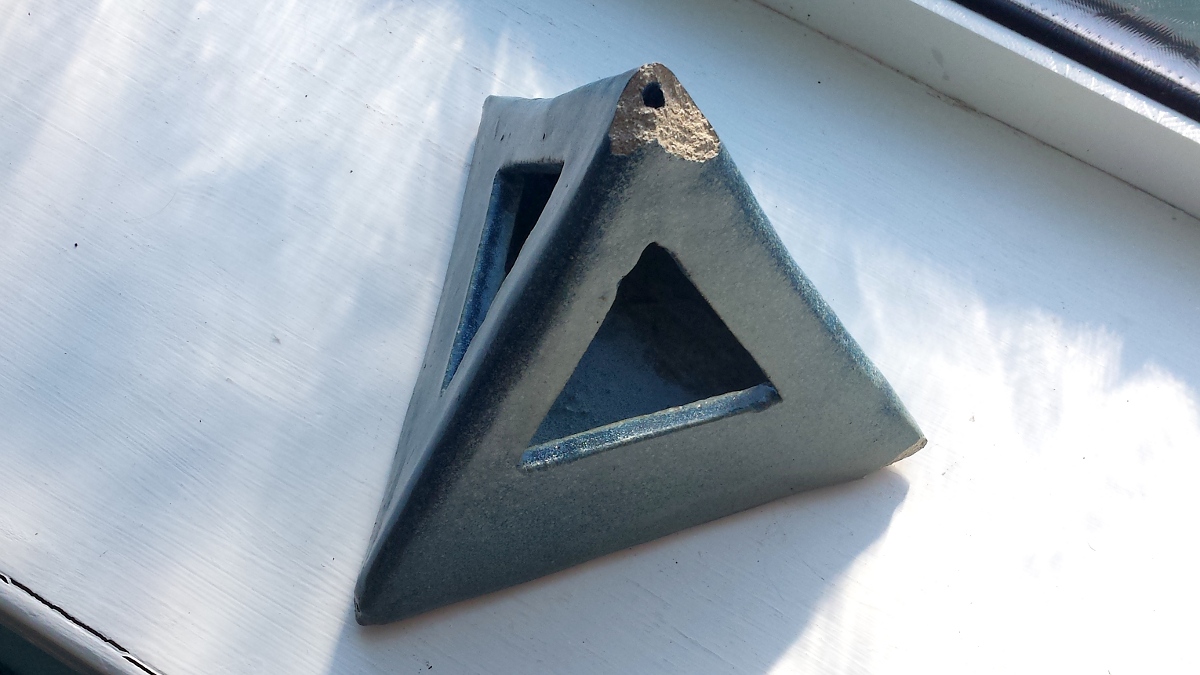 From my "ceramics for outdoors" class. Slab built. It should have been a marbled grey-blue glaze (like the little ashtray on the left) but it came out a speckled blue (possibly due to an overfiring kiln). Strange-cat knocked it off the window sill the other week, hence the broken apex but I got to see my joins were strong – can't see where the slabs meet.
Peg basket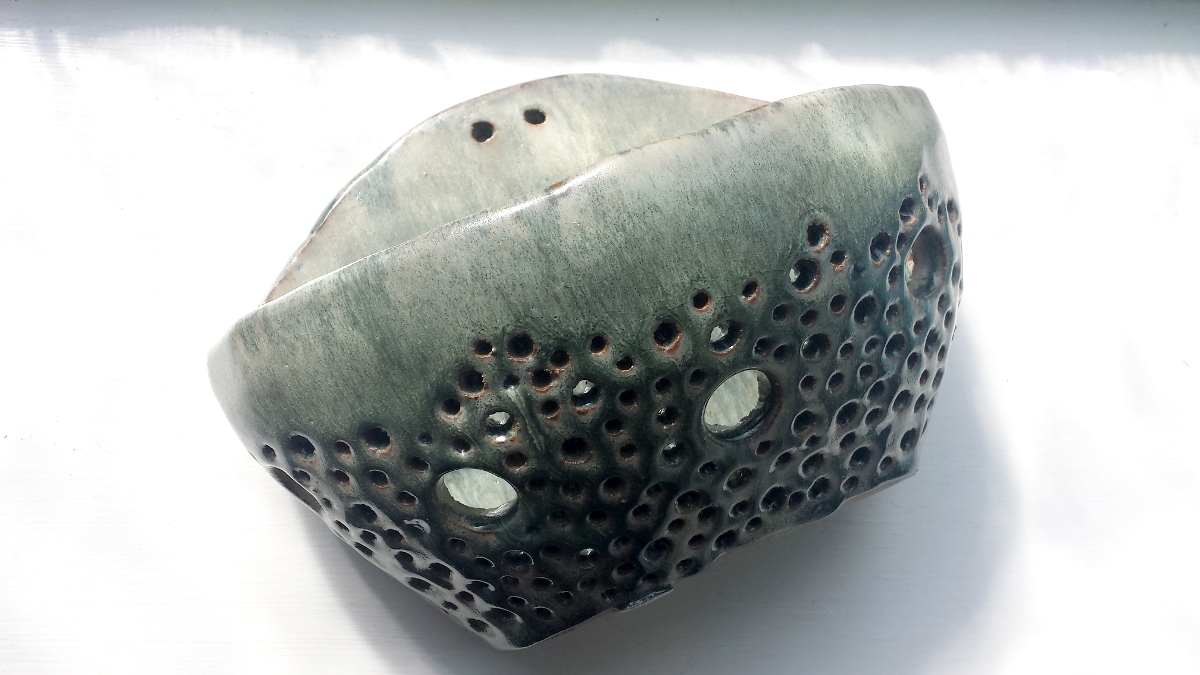 Coiled and made holey. Instantly regretted the bigger holes but other people say they like the variety. The same glaze combo as the make-up pot, though with more of the shiny teal on top. The glaze ran a bit so there is a little kiln shelf stuck to the bottom but nm.
Quick and dirty bowls for carving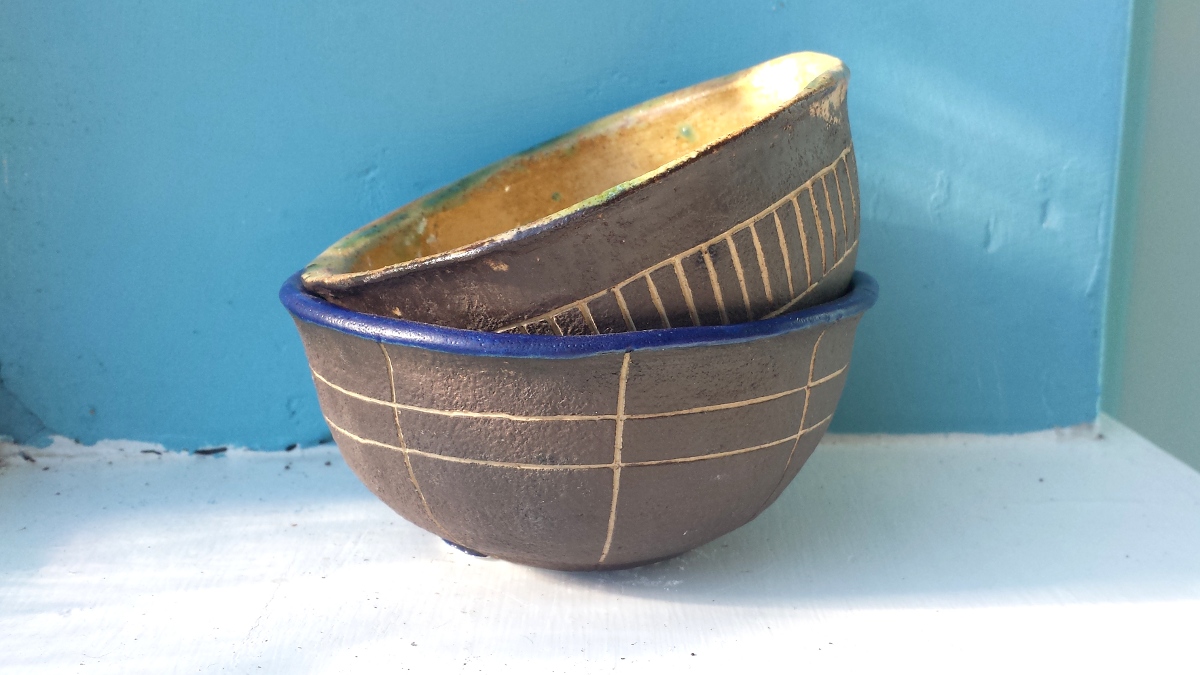 Two little bowls, coiled very quickly into a mould, to practise sgraffito – ("painting" the outside with coloured slip then) carving into the surface of the clay. This was my first attempt at sgraffito and it went well – and put me on my current path of geometric/line-based carving. It's a shame the build quality let them down – the bottom cracked on one and the rim broke on the other. The latter was fixable but I didn't realise how much it had smudged the coloured slip so it's a bit scruffy now. I tried fixing the cracked bottom with glaze and glass but that just made the problem worse. Nevermind, lesson learnt!
Terracotta "runes"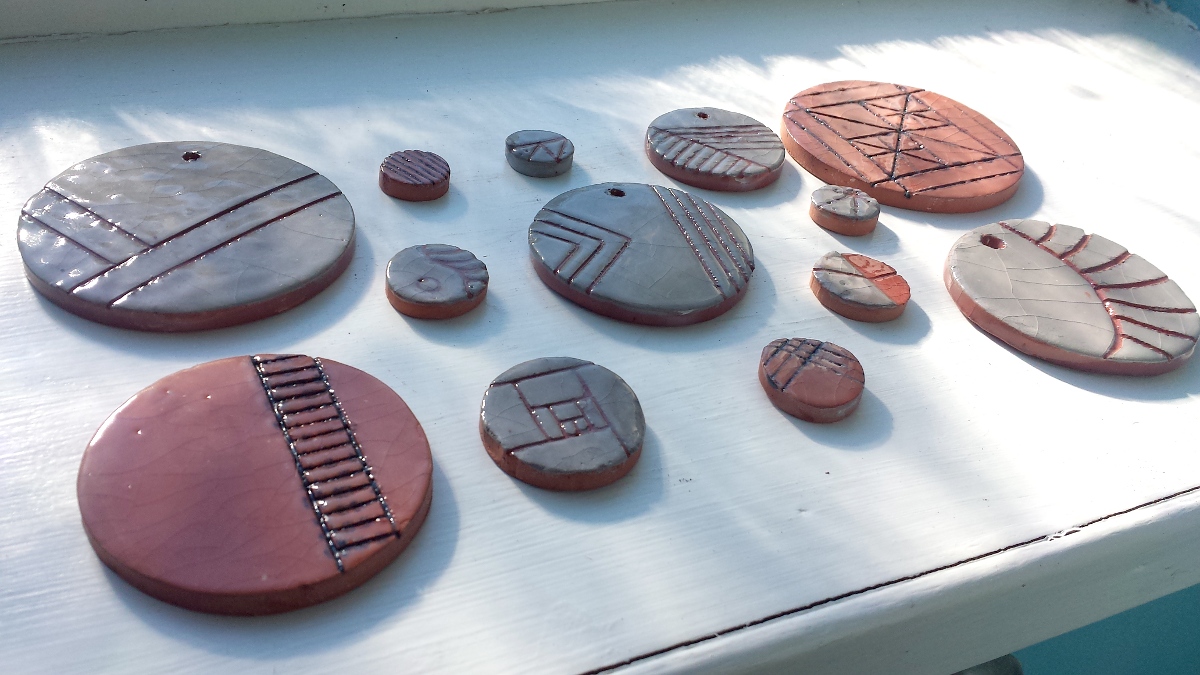 One of the tutors had a leftover slab of terracotta that she no longer needed – I decided to use it for sgraffito/carving practise. I had no plan for them but poked holes in the bigger ones in case I wanted to make them into dangly things; the little ones remind me of rune stones, hence the name. (I've since got into the practise of carving every scrap of slab I have left after building projects – I have many, many pendants and "rune stones" on the go at the moment. No particularly purpose for them, just cheap and good practise.)
The grey colour should be black, don't know why it stayed grey (possibly not fired hot enough for the oxides to change colour?).
Thread winders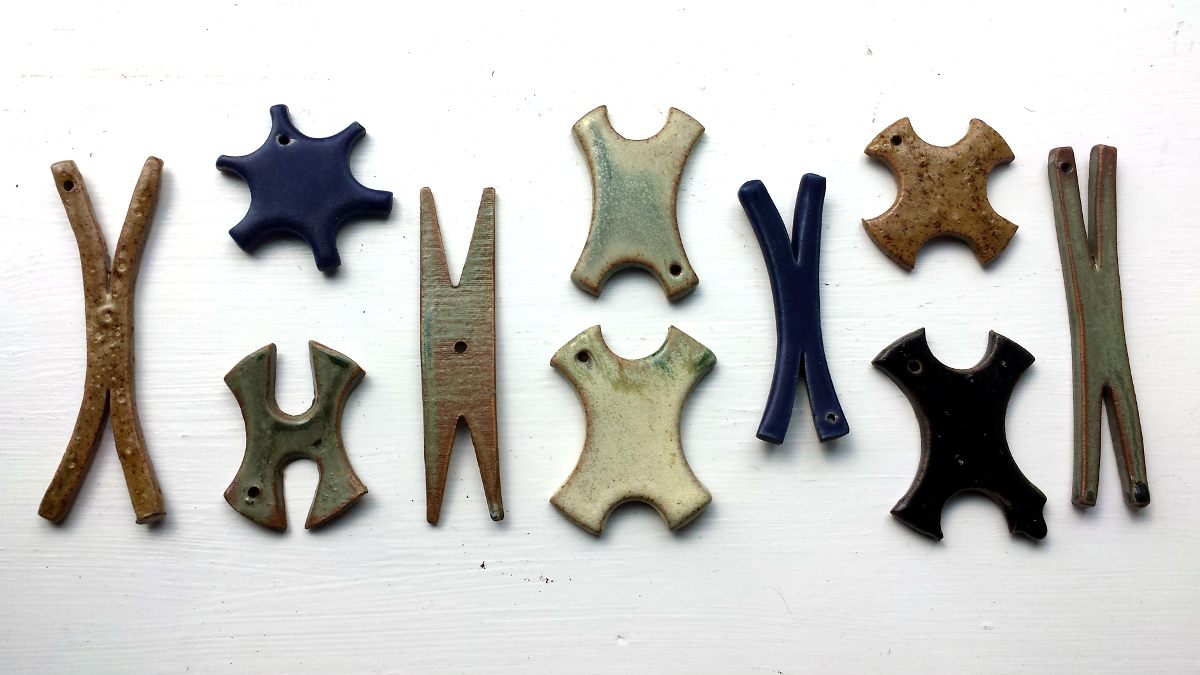 I've done two batches of these – the second long one from the left is from the first batch, the rest are from the second. The first batch were glaze testers (trying out different colours/finishes) but once I found how enjoyable they were to use, I made some more. (The rest of the first batch are in use, wrapped in embroidery threads.) I got a bit more creative with shape and glaze on the second batch – they didn't quite turn out as planned but will get used all the same.
Lopsided pendants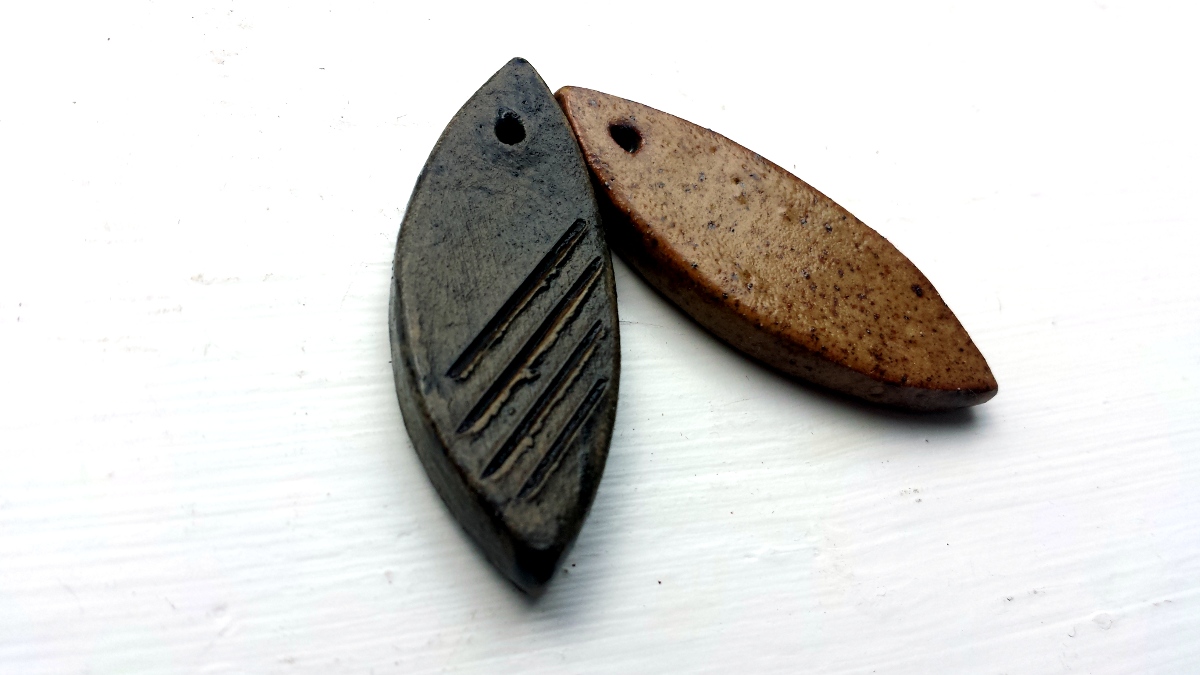 The offcuts from some of the thread winders: more glaze experiments really.
Blue wall plaque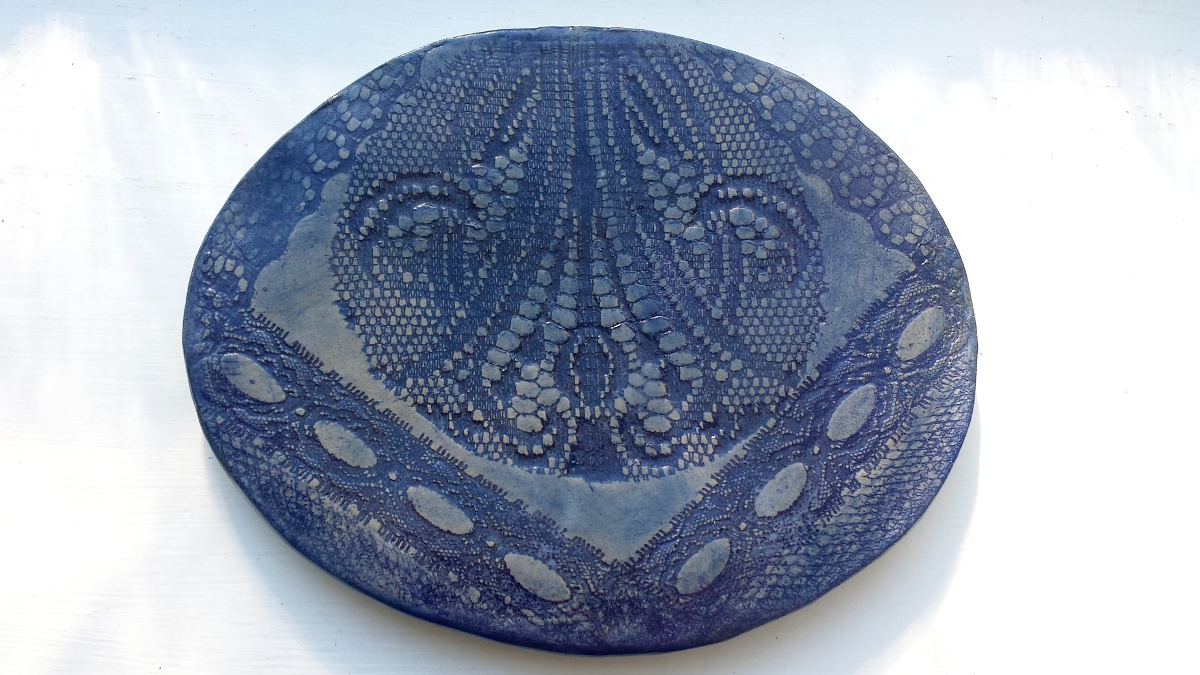 I made four oval plaques, with different fabric imprints. This was my least favourite because it's a bit too lacy so I used it as a test tile – a good job, as it came out a bit too blue. I toned down the blue on the the other three and they came out just terribly. Really washy colour and the clear glaze had cloudy patches all over. So this is the only one I have. Sigh. (I do have four little coaster size plaques in the same blue, but forgot to photograph them.)
Ziggurat inspired pot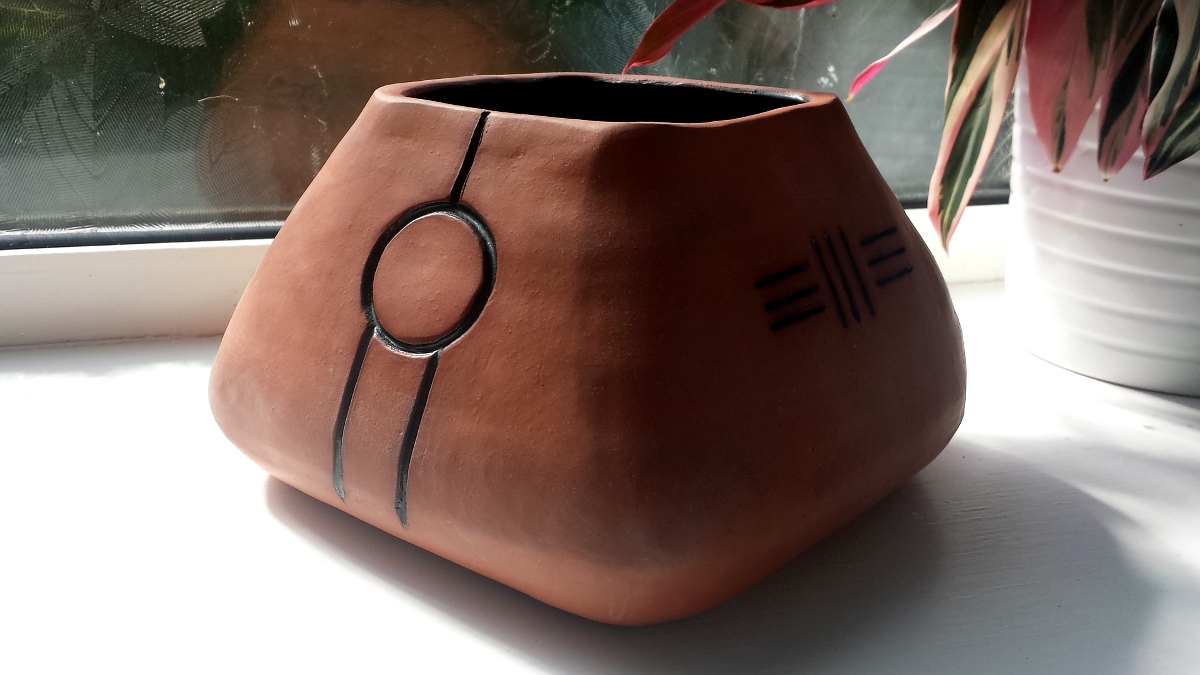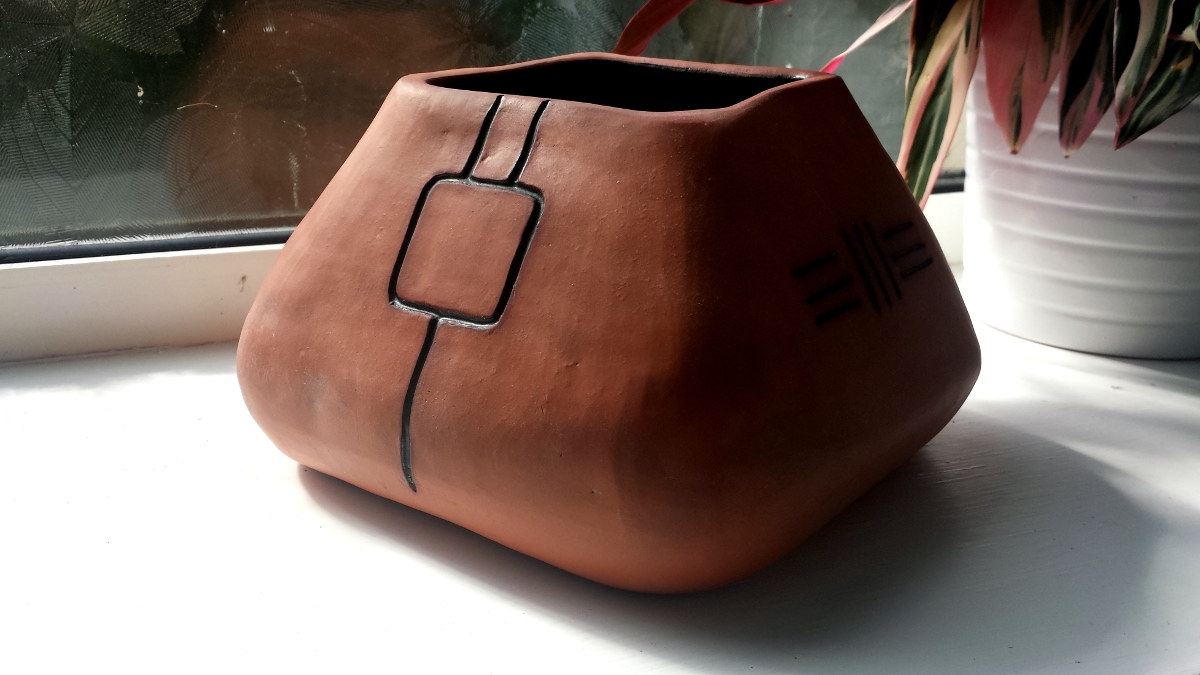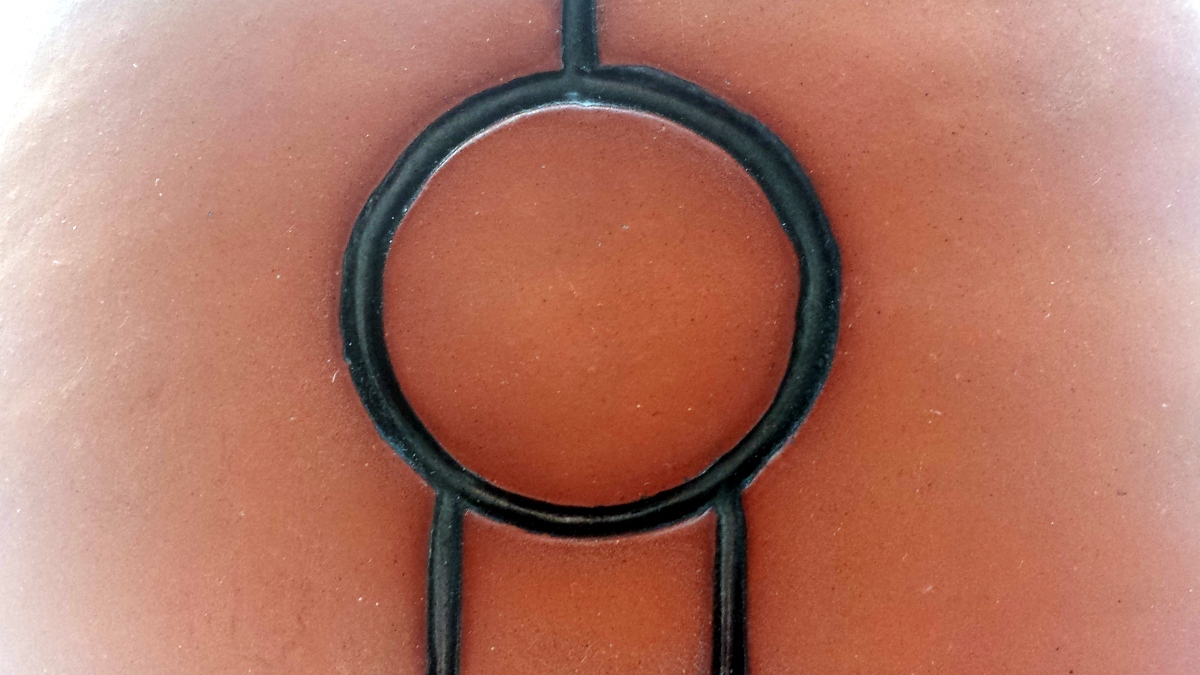 This was supposed to go from square to round, but it went from square to… slightly off square instead. Base slab into a mould, then coiled. Shaped and burnished, then carved – circle with lines on one side, square with lines on the opposite side, and matching groups of lines on the other two. I worked on getting the rim right for a long time – it's still not perfect but stronger than a lot of my coiled bowls. Love the carving, especially once picked out in black glaze (there is a matte black glaze inside too). There are a dozen ways I'd improve it but I very much like this piece.
Grello squished pot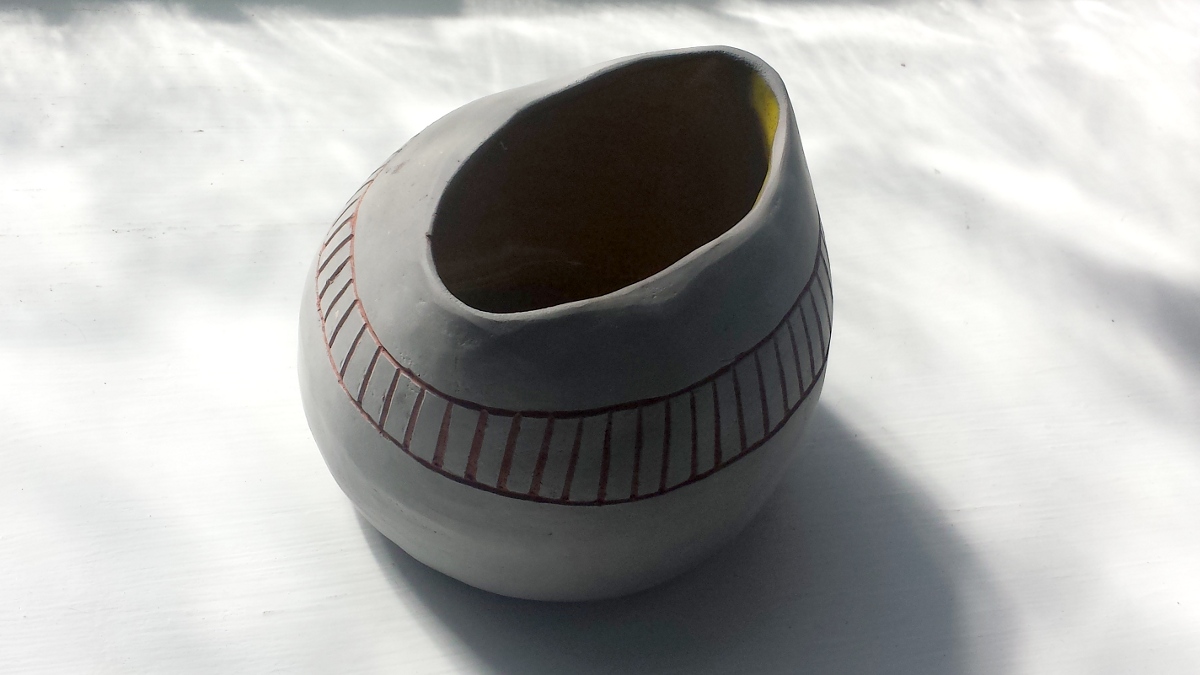 Coiled into a mould – it was supposed be round but got squished… Coloured (black) slip and carved again, then "speckled yellow" glaze inside. The outside should have been black, giving a good yellow/black/red clay contrast but as with the runes above, it didn't change colour. (I didn't put any clear glaze on in case that was the problem – but apparently not.) I like it but the colour is disappointing really.
My first meeple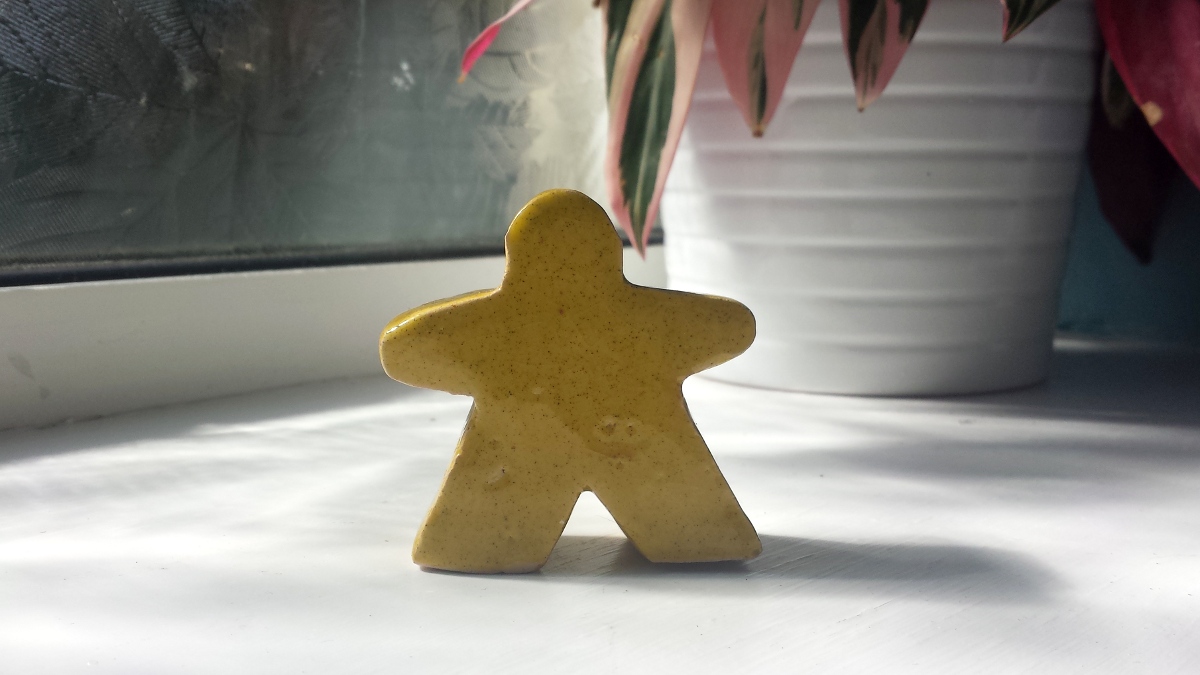 I made a family of meeple as part of my raku course – but decided to fire this one conventionally, in the same earthenware "speckled yellow" glaze as the above pot. (The glaze had settled solidly, I had to stir it for an hour before I could use it so I wanted to use it for more than one thing!). I like him – but can't wait to see his bigger, raku siblings.
Next…
I've currently got a few things waiting for their final firing in the kiln, and a whole load of figurines (the rest of the meeple & some ancient-style animals) and a couple of bowls which should be raku fired in the next fortnight (and a terracotta pot for smoke firing). I'm also working on a couple of things that are very "not me" – lots of random textured slip — which makes a nice change.
At the end of June, I took a throwing course – ie, making things on the wheel rather than handbuilding – but I didn't keep anything from that course: I liked some things but know I'll quickly be swamped by better versions! (Some pictures from my first day are on Twitter)
All in all, it's been a fun six months. :)