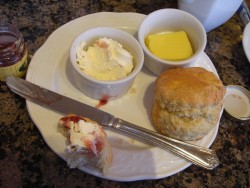 Got a new camera – a Casio Exilim EX-S880 – the other day. I'm not particularly one for gadgets but I wanted a small camera to carry around with me for work reasons as well as for fun ones – I so often spot Recycle This ideas when I'm out and about.
I put size and cost ahead of quality in my buying criteria – I wanted something to take photos rather than with which to do Photography (capital P) – and the Casio met that: it's small enough to slip in my jeans' pocket and was just over £120, which I didn't think was too bad since I imagine I'll used it for at least three or four years.
We've not had a chance to test it properly in daylight since daylight and our waking hours are barely overlapping at the moment but the flash (particularly the soft flash) stuff has turned out alright. There is a nice feature for selecting the focus point but our tests with the facial recognition stuff so far have failed (perhaps we all look too alike). There are lots and lots of pre-defined settings — everything from the basic portrait and sports, to text and fireworks, and there are three video options including a "YouTube" mode (which basically seems to be "turn quality to crap").
The screen is very big and clear but the photo playback makes all the photos look too bright and over-exposed (going to see if we can adjust this) – the initial few second review after taking the photo is closer to the final image.
The camera comes with a cradle for downloading and charging: it seems counter-intuitive that the camera goes into it backwards but of course it makes perfect sense when you think about it (it lets you use the screen). It also just plugged-and-played in Ubuntu (Gutsy) – just auto-detected the camera then downloaded to gthumb as standard. Even though I'm usually a stickler for checking this sort of thing before I buy, I didn't this time and so was happy that it Just Worked.
I've uploaded a selection of photos (mostly from yesterday) to my Photos section. I've shrunk them down because there didn't seem to be any point putting the full size ones online but I've not made any other adjustments to them – colour, focus, cropping etc. The three pics in the cafe were done without a flash so not to annoy fellow diners but the rest were with the flash. The scones with cream and jam were yummy, by the way.